Postat av Niklas - Crew i
Nyheter
den 07 december 2012 |
ingen kommentar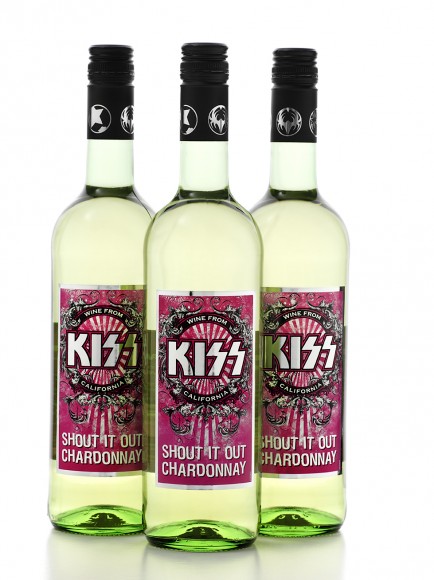 KISS & REWINE PRESENTERAR: SHOUT IT OUT – CHARDONNAY
Rockgruppen KISS och vinproducenten Rewine lanserar i dag ännu ett hårdrockande vin – Shout it out Chardonnay!
Fira in det nya året med KISS Shout it out Chardonnay
Los Angeles/Stockholm, 1 december 2012 Legendariska och snart Sverigeaktuella rockgruppen KISS lanserar idag tillsammans med vinproducenten Rewine ett vitt alternativ åt alla hårdrockande vinälskare: Shout it out Chardonnay! Shout it out Chardonnay finns tillgängligt från Systembolagets beställningslista från och med fredag den 1 december 2012.
"This isn't just something we put a label on. We wanted wine and beer unique to KISS and we got it", said Paul Stanley of KISS.
"This stuff will set your taste buds on fire."  "If you love beer and wine, this one is for you!" said Gene Simmons of KISS.
"Det har varit en fantastisk upplevelse att jobba med KISS", säger Joakim Perani, VD för Rewine."Hela gruppen har varit en enorm tillgång i arbetet med att ta fram produkter som såväl hårdrockare som andra vinkonnässörer uppskattar."
KISS senaste tillskott på hårdrockarnas bästa vinhylla är en kalifornisk chardonnay. Shout it out Chardonnay är ett torrt, smakrikt och fruktigt vin och har en doft med lätt fatkaraktär och inslag av aprikos, citrus och tropisk frukt.
Sedan september 2011 finns KISS populära röda, Zin Fire Zinfandel, i Systembolagets ordinarie sortiment; en fyllig och fruktig kalifornisk zinfandel från 2010; liksom Destroyer Beer, en frisk lager i tysk tradition. Kissrockdrinks öl och viner säljs i Sverige, Norge, Finland, Danmark, Nederländerna, Storbritannien och Australien. Läs mer här www.kissrockdrinks.se