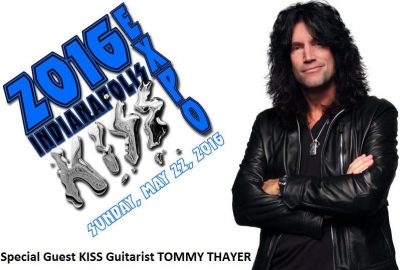 Tommy Thayer är gäst på detta årets KISS Expo i Indianapolis den 22:e maj.
The 2016 INDIANAPOLIS KISS Fan Expo will take place on Sunday, May 22nd from 9am-8pm at the Caribbean Cove Hotel & Conference Center in Indianapolis, Indiana. Fan Expo favorite Tommy Thayer is returning to the INDY event in a big way! He will spend all day Sunday with fans at the Expo and also make an appearance at the INDY premiere KISS ROCKS VEGAS movie screenings the night before. In addition to being a guitarist extraordinaire, Tommy is the film's producer! Tribute band KISS Resurrection will perform at Expo!
Each of the first 300 tickets purchased for the 2016 INDY KISS Fan Expo will include one free admission to one of the exclusive May 21st Indianapolis premiere screenings of the KISS ROCKS VEGAS movie!