Artikel från Rolling Stone: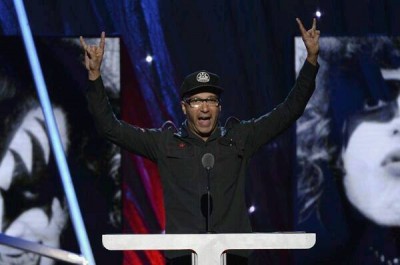 Tom Morello Salutes Kiss Army in Rock Hall Induction Speech
"This night proves that the bullies and critics were mistaken," guitarist says
Tom Morello may be currently touring with new Hall of Fame inductees the E Street Band, but on Thursday night at Brooklyn's Barclays Center, the former Rage Against the Machine guitarist saluted the Kiss Army while inducting Kiss into the Rock and Roll Hall of Fame.
Given the dichotomy between Morello's left-leaning worldview and Gene Simmons' take-no-prisoners brand of capitalism, it was ostensibly an unlikely pairing. But Morello cast aside his political views to praise his "first guitar hero," Ace Frehley, though, perhaps because he couldn't help himself, he did manage to work in one "power-to-the-people" plug.
"Tonight, we honor the fifth memeber of the band: the Kiss Army," he said of the band's loyal fanbase. "This night proves beyond a shadow of a doubt that the bullies and critics were mistaken. Tonight this is the 'Rock and Roll all night, and Party Every Day' Hall of Fame."
As the guitarist told Rolling Stone before the ceremony, he first saw Kiss play when he was 12 and attended their shows religiously during his formative years. "I've known Gene and Paul for some time and I'm a huge fan of the band and have been an advocate — a noisy, fist-pounding advocate for years for Kiss to be in the Rock and Roll Hall of Fame," said Morello. "One of the all-time great bands is being rightly enshrined.
"When those records were released, focus was shifted because it was a band in makeup or because it was band with explosions," added Morello. "But those are great anthemic songs with badass riffs. There's a reason why Kiss sold 100 million records around the world. There was no one spitting blood in your living room when you were listening to them. I was rocking out hard to them."
In 1994, the guitarist teamed up with Tool frontman Maynard James Keenan, RATM/Audioslave drummer Brad Wilk and Faith No More bassist Billy Gould as Shandi's Addiction to cover the group's 1976 song "Calling Dr. Love" for the compilation Kiss My Ass: Classic Kiss Regrooved.