The Original Kiss Krew – Out On The Streets är en kommande bok om hur det vara att jobba med Kiss de första åren av bandets långa karriär. De kommer bjuda på utdrag från några kapitel tills boken är klar för tryck, läs mer nedan: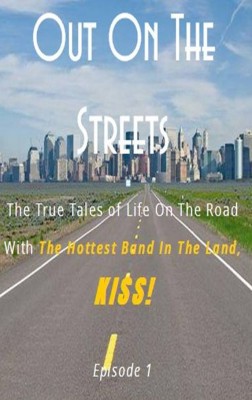 The Original Kiss Krew – Out On The Streets
On this site we will publish chapters from our upcoming hard cover book "The Original Kiss Krew – Out On The Streets"(c), a book that YOU the REAL Kiss fans have been waiting for. You'll read stories of OUR experiences during the early days of working for, and helping to make Kiss The Hottest Band In The Land, told BY US in OUR OWN WORDS.
Periodically we will publish a number of chapters online, totaling a MINIMUM of 20 pages in each "edition". We will continue releasing these editions until we have released the COMPLETE book, totaling at least 200 pages, which we will then publish in HARD COVER printed format. Each of the online editions will be available for download for $3.50 PER EDITION, with the final HARD COVER book containing ALL online chapters/editions offered for purchase at $25 each. A select number of HARD COVER copies individually signed by Peter Oreckinto (Moose), J.R. Smalling & Rick Munroe will be offered for purchase at $40 each. Fans that have purchased 5 or more editions online will be able to purchase the Hard Cover book at a deeply discounted price. In addition to the previously released online editions, the Hard cover book will also contain never before seen photos and additional Bonus material.
So come on Kiss fans, show us that you care…click on the Facebook "Like" (below) and let us know that you want to see this happen. YOU WANTED THE BEST AND YOU GOT IT!! And WE helped to make it happen!!
Thanks for the love that you've shown us over the years. We look forward to sharing our stories with you.
http://www.theoriginalkisskrew.com/
BIOS OF THE ORIGINAL KREW – Who we are, who we worked with, and how those experiences prepared us to be all that we could be for Kiss.
BEFORE THE ROCKET RIDE – Tales from the formative years of Kiss in 1973.
KISS KREW(C) 101 – In which we discuss ALL of the responsibilities and day-to-day activities of the Original Krew including a detailed timeline of these tasks. Learn what it's like to be an original roadie for Kiss. You'll be surprised!
FX 101 – Diagrams and explanations of Kiss' special effects at the time and how they worked.
BOOM! – The REAL story of the day that Moose's hand was almost blown off, and the events leading up to that moment as told by the man himself.
TRUE KONFESSIONS – The REAL story behind some of the tales that you've only heard rumors of. Our dealings, good and bad, with some of the other road crews and bands that we worked with, and WHY Rockers (bands & crews alike), break shit.
KLOSE KALLS – Recounting various potentially life threatening events including threats to the Krew, brawls, and the day we ran into some of the nastiest guys in U.S. history.
KISS KUTIES – Of course no Rock and Roll book would be complete without tales of the "ladies", good girls and bad girls, and certain "liaisons" that we experienced along the way.
THE KISS KREW FROM "THE OUTSIDE LOOKING IN" – Memories of your heroes from various bands, crews and others that we interacted with along the way.
J.R. GET'S BOOTLEGGED – Many of you know that J.R played drums on the demo for "God Of Thunder", now learn about the OTHER demo's that he played on and how he was not credited for and almost not compensated for his participation.
THE END – The last days of The Original Kiss Krew(TM)
Some of these stories AND MORE will see the light of day for the very first time. If you want to learn the REAL story of The Glory Years of Kiss, this is the place!
The first edition will be available within one month, with additional editions being published monthly after that. We hope that you enjoy it and ALL subsequent editions.