Stevie Nicks tycker att Kiss skulle ha spelat, läs nedan: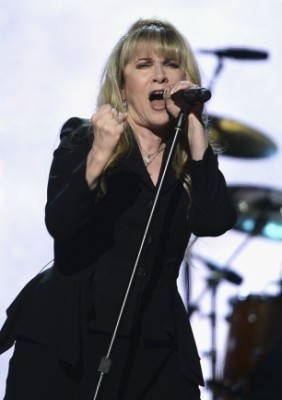 Stevie Nicks on Kiss' Rock Hall Appearance:
They Should Have Played
"It's their loss they didn't play, because the Kiss Army is out there screaming for them," says Fleetwood Mac singer
What were your thoughts on the Kiss situation? Did you talk to them at all about performing?
I did not. I just gave them kisses. No, my opinion was that they should have played. When we were inducted into the Rock and Roll Hall of Fame, Lindsey's a little bit like, "OK, whatever." But let me tell you, when we walked up there and we were inducted, we stood up there and it is a moment like no other. Then you get to go and strum on your guitar and get your microphone and sing two or three songs to that audience on your day.
It is their loss that they didn't play, because the Kiss Army is out there, right now screaming for them. And they should have played for them, no matter how they felt about it. You know, Fleetwood Mac had about 500 people in it, too. They weren't all there. All 900 guitar players didn't get inducted. They weren't there. So the thing is, you know what? It's your moment. Take it. Go out there and play. It's the most important part. I like Kiss very much, and I think that they have done amazing. They're an amazing band.