Som Ni redan vet så kan man köpa olika sorters gitarrer från Paul, Tommy och Gene på deras spelningar. Nu inför Euroap-turnén lanserar Paul Stanley en "flagg"-gitarr för varje land, är Ni intresserade läs nedan och kontakta dom, vill Ni ha hjälp så hör av Er så kan vi säkert hjälpa till med kontakten om det behövs.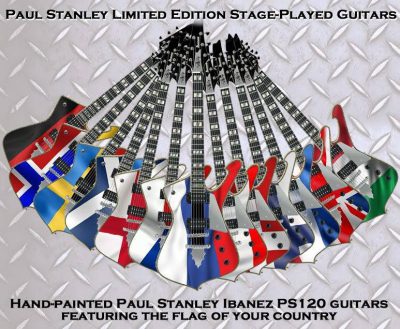 Paul Stanley is excited to announce that he will be offering special limited edition Ibanez Swedish Flag guitars during the KISSWORLD 2017 Stockholm and Gothenburg shows!
Only one staged-played and one non-staged played Swedish Flag guitar will be sold per show. These guitars will be hand painted with the Swedish flag.
If you are interested in purchasing one of these beautiful guitars, please email to KLeroux67@gmail.com.