Bilder och recensioner från spelningen i Salt Lake City den 23 juni 2014: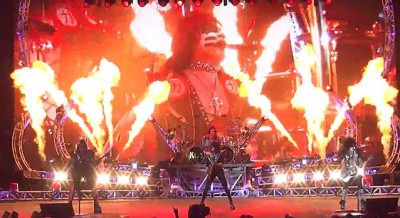 KISS Kicks Off Tour With DEF LEPPARD In Salt Lake City
Keith Leroux of KissOnline.com has uploaded video footage of KISS performing the song "King Of The Night Time World" at the opening show of the band's tour with DEF LEPPARD on Monday, June 23 in Salt Lake City, Utah. Check it out below.
KISS and DEF LEPPARD announced their 42-date 2014 summer tour in March during a press conference at the House Of Blues in Los Angeles. The nearly 10-week trek will run through August 31 in Woodlands, TX at the Cynthia Woods Mitchell Pavilion, hitting both major cities and secondary markets. DEF LEPPARD will open each show — although the tour is billed as KISS and LEPPARD co-headlining. KISS frontman Paul Stanley explained that although DEF LEPPARD and KISS have no shared history — they've been equal admirers for decades. "We've run into each other at festivals and, y'know, it just seemed a natural fit," he said.
"At some point it really becomes important to go out there and give everybody bang for buck. Give everybody something more, perhaps, than other bands are.
"We have history of going out there and trying to do the greatest shows possible.
"Summer is a great time to go out, enjoy yourself, you can go out with your family, just go out on a date — but in any case, you want full night. And you're not going to hear more better songs than with the two of us. I wanna just hang around and listen to these guys."
Gene Simmons — along Joe Elliott and Paul Stanley — explained that this tour was created with the band's fans in mind. "Anybody that thinks this is just about ego — yeah, we love each other and all kind of stuff; this is for the fans, of the fans, by the fans — we are fans of DEF LEPPARD," he said. "And we hope the fans are going to get the most out of this, and that's what it's all about." Elliott added: "Hallelujah!" Stanley said: "So, it's by the fans — buy the tickets."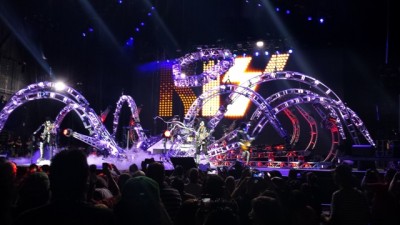 Dan Nailen's Lounge Act: KISS and Def Leppard team up to set Usana attendance record
If KISS and Def Leppard were looking for an ideal spot to open their American summer tour, they found it in the friendly confines of West Valley City's Usana Amphitheater, as more than 20,000 fans filled every space in the place for a Monday night of classic rock hits.
Considering there were all manner of ticket-sales specials and Groupon deals for the show, I was expecting maybe an undersold venue. Au contraire–it was probably the most packed I've ever seen the place, with cars filling the lots and the shoulders of roads for probably a mile in every direction of the venue.
The vibe inside was celebratory, to say the least. It hardly mattered that it was a Monday night–when KISS's Paul Stanley asked the crowd how many of them had to work on Tuesday, the roar was as deafening as at any moment during the show. Beer options sold out early, as did earplugs at the concession stand–but there were plenty of new KISS and Def Leppard t-shirts to go around.
I was sitting in the traffic approaching the venue during the opening act, but made it in time for Def Leppard's 75-minute set. Clearly, a band with Def Leppard's track record is no typical opening act, but they are smart to deliver their straightforward hour-plus before KISS takes the stage with all their over-the-top theatrics. Def Leppard simply let the music make their mark on the crowd, starting off with "Let It Go" from their 1981 album High 'n' Dry.
That's my favorite era of singer Joe Elliott and Co., but they mostly stuck to the monster hits that came for them later in the '80s during their 15-song set. "Rockit" and "Animal" led into what Elliott told the crowd was "Uncle Gene's favorite Leppard tune," referencing KISS's Gene Simmons in introducing "Foolin'".
The rest of Def Leppard's set could have been pulled from a 1986 MTV programming guide–"Armageddon It," "Love Bites," "Hysteria" and "Pour Some Sugar On Me" all were there, as was "Bringing on the Heartbreak," another older. Their encore held two songs from their Pyromania album, and both "Rock of Ages" and "Photograph" sounded as good now as they did when the lads were three decades younger. Def Leppard deserves props for remaining a strong live act all these years later, and for delivering the goods with a minimum of bells and whistles on stage.
Of course, bells and whistles to the nth degree have been part of the deal with KISS since the '70s, and they still put plenty of thought into the visual production of their shows. This tour marks the band's 40th anniversary, and first since their induction into the Rock and Roll Hall of Fame, and they blasted through 75 minutes of bombastic tunes abetted by firebombs, flashing lights, smoke effects, Simmons spewing blood, and singer Paul Stanley howling at the crowd in that raspy New York accent of his.
KISS opened with "King of the Night Time World" and "Cold Gin," two stone-cold classics from the KISS catalog, before launching into an impressively harrowing version of "War Machine" from the band's Creatures of the Night album. That was the first of a few surprises during the night.
The band didn't only delivering the obvious monster hits, although the set certainly leaned most on those. "Makin' Love" from the band's Rock and Roll Over album was unexpected. And Stanley's take on "Hide Your Heart" from the band's 1989 Hot in the Shade album featured a couple of missteps, as Stanley repeated a singalong chorus a couple times with the crowd before the band locked in to start the next verse–chalk up that glitch to it being the first night of the tour.
The inclusion of the forgettable title track from the band's Psycho Circus album is what I would consider a rather unpleasant surprise, but for the most part KISS delivered what the fans love about them–massive visual effects set to the sound of old favorites like "Christine Sixteen," "I Love It Loud" and "Shout It Out Loud."
No doubt the 20,000+ on hand went home happy from the combined efforts of KISS and Def Leppard. That's a hard-rock double-bill that's tough to beat, even in 2014.