Artikel från ultimateclassicrock.com: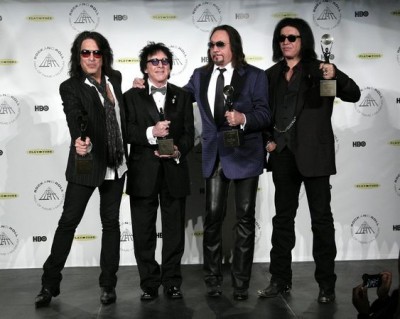 Kiss Mostly – But Not Entirely – Play Nice During Rock Hall Induction Speeches
"Tonight, Kiss enters the Rock and Roll of Fame…" That's all Rage Against the Machine guitarist Tom Morello had to say, and the crowd at the Rock and Roll Hall of Fame induction ceremony instantly erupted with approval.
After months and months of fighting amongst themselves and with the people who run the Rock and Roll Hall of Fame, the induction of the four original members of "the hottest band in the land" turned out to be a primarily peaceful affair. However, at least three members of the group found time to take one well-placed shot at somebody in the building.
While some might have questioned the selection of Morello as the person to induct the group, from the opening moments of his speech it was clear he was both a man on a mission and a card-carrying member of the Kiss Army. With a serious look in his eyes and truckloads of determination in his voice, Morello began his remarks by mentioning that he was there to pay tribute to "four of the most recognizable faces on the planet, and one of the most iconic and bad-ass bands of all time."
"While the Kiss Army will accept anybody who wants to enlist, it can be a rough ride," Morello noted. "It was not always easy being a Kiss fan — arguments and fist fights were not uncommon." Kiss, he said, "was never a critic's band. Kiss was always a fan's band." Still, there is no doubt in his mind that Kiss should be in the Hall of Fame. "All four guys wrote great songs. All four guys were great lead singers. They practically invented the live album with 'Kiss Alive!'"
While earlier generations had Elvis and the Beatles, it was Kiss, as Morello explained, that filled that inspirational gap for the generations that have followed. He had a diverse cross-section of bands and artists to help make his case, mentioning Tool, Pantera, Garth Brooks, Lenny Kravitz and his own band as being among those who had been musically affected in a positive way by the music of Kiss.
Although the Rock Hall didn't include members beyond the original four in the induction, Morello made room for each alumni in his comments, mentioning Eric Carr, Vinnie Vincent, Mark St. John, Bruce Kulick, Eric Singer and Tommy Thayer as members that "have all been important to the legacy" (who) "deserve a round of applause."
"But tonight, we honor the fearsome foursome," Morello said. He spoke eloquently of all four members. Special attention was given to "the Spaceman," Ace Frehley, who Morello called, "my first guitar hero," and who notably got a large share of the audience applause. "Tonight we also honor the fifth member of the band, without whom this could not have happened. Tonight we honor the Kiss army. Tonight proves beyond any shadow of a doubt that the high school bullies were mistaken. We Kiss fans were right, so let's celebrate — tonight, it's the Rock and Roll All Night, Party All Day Hall of Fame!"
With Morello's speech complete, all four original members of Kiss took the stage together, with both Frehley and drummer Peter Criss sharing embraces with Gene Simmons. Speaking first, Simmons called the induction "a profound moment for all of us," and said, "I'm here just to say a few kinds words about the four knuckleheads, 40 years ago, who decided to get together and put together the band we never saw onstage — critics be damned."
He did indeed have nice words for all of his band members, both past and present, calling Frehley someone "whose iconic guitar playing has been imitated but never equaled by generations of guitar players" around the world. Of Criss, he said, "nobody's got that swing and style," while Stanley was singled out as "the partner and brother I never knew."
Simmons also took care to mention and thank each of his former bandmates: "Eric Carr, rest in peace, Mark St. John, rest in peace, Vinnie Vincent, the great Bruce Kulick, and of course here we are today, 40 years later, with the great Eric Singer and Tommy Thayer. However, we wouldn't be hear today without the original Fantastic Four."
He then turned the microphone over to "the powerful and attractive Peter Criss," who used his remarks to pay tribute to all of the many people involved in helping to make Kiss worldwide superstars, "from the grips to the truck drivers to the great producers." He singled out a name from their past, declaring, "I want to definitely thank our first manager Bill Aucoin. We would not be here if it were not for Bill." He did rather cheekily address the recent controversy, noting that, "in or out of makeup, I'll always be the Catman."
If you expected Frehley's segment to go off without a hitch, well, you haven't been paying attention to his career for the last 40 years. Right off the bat, he revealed, "I have a speech here, but these aren't prescription [glasses]. So I can't read!" Luckily, he went off the cuff very well: "You know, when I was 13 years old and I picked up my first guitar, I always sensed I was going to be in for something big." He did take a not-so-subtle jab at Simmons' long-running critiques of his addiction problems, noting that he is now over seven years sober and lamenting that "some people think that it has to do with willpower. Most addicts are born that way, and people need to be educated about that."
Finally, singer and guitarist Paul Stanley took over the microphone, and based on how directly he's been criticizing the Rock Hall and his former bandmates, it's unsurprising that he had some sharp comments tonight. But first he gave thanks to Morello, who "championed us shamelessly and unapologetically," and called it "a special night for the fans."
Then came his measured, well-placed shot at the people who presumably bought him dinner tonight. "Here we are, basically inducted for the same things that we were kept out for. The people are speaking to the Rock and Roll Hall of Fame, and what they're saying is that they want more. They don't want to be spoon-fed with a handful of choices. The people buy tickets, the people buy albums, the people who nominate do not. Let's not forget that these are the people who make it all possible. We just benefit from it. I am here tonight because of the people who inspired me, but I am also here because of the people I inspired. So god bless you all. It's a wonderful night."