En artikel om  vilka kriterier som krävs för att bli vald till Rock and Roll Hall of Fame: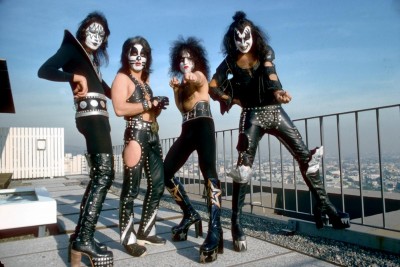 How the Rock Hall decides which bandmates get in
Paul Stanley and Gene Simmons haven't hidden their displeasure that the Rock and Roll Hall of Fame chose not to induct Kiss' current members along with its original ones.
When Simmons told USA TODAY, "This organization decided to honor only a part of our history," he raised a question about how the hall decides which individuals to include when it ushers in a group.
Kiss will have its most famous faces inducted — Simmons, Stanley, Ace Frehley andPeter Criss — when the band joins the hall's ranks April 10 in a ceremony at Barclays Center in Brooklyn. But two who now wear the signature makeup (Eric Singer andTommy Thayer), plus four other former members (drummer Eric Carr and guitaristsBruce Kulick, Vinnie Vincent and Mark St. John), won't get in.
Nirvana's former drummer Chad Channing, who played on 1988 single Love Buzz, the recording that made the group eligible for Rock Hall induction this year, will be left out, too.
Bruce Springsteen's E Street Band, on the other hand, will be welcomed in with a roster that encompasses early drummer Vini Lopez and keyboardist David Sancious, as well as its eight better-known members.
Groups get picked for induction for different reasons, says Rock and Roll Hall of Fame Foundation president and CEO Joel Peresman, which means the hall's nominating committee will use different standards when deciding which bandmates to include. "Sometimes, it's the overall body of work; sometimes, it's a specific period in time and the people who comprised the band that put them on the map and gave them that influence and created that legacy," he says.
Historically, the Rock Hall has tended to choose a band's "classic" lineup for induction. For groups like The Beatles or U2, the choice is fairly simple. For others, it's more complicated. Practically everyone who ever played with the Grateful Deadwas included when the group went into the hall in 1994. Metallica and the Red Hot Chili Peppers also have relatively inclusive hall memberships. Other induction lineups — like those for Lynyrd Skynyrd, The Temptations and Kiss — left out members who sang or played with the group for many years.
"The only rule they have is that they make their own rule with each band," Stanley says.
Peresman acknowledges that the Rock Hall's nominating committee, which consists of about 40 music industry executives, musicians and journalists, handles each decision about group membership on a case-by-case basis, in consultation with outside scholars.
"It's a little bit of opinion, but you have to go with the opinion of people who know these genres of music and can form a truly educated opinion," he says.
"The inconsistencies are there, and the hall has to live with them," says Neil Walls, who runs the Future Rock Legends website, which tracks artists' eligibility for the Rock Hall and determines their chances of induction."This is only going to come up again in the future," he says, pointing to Pearl Jam, which will be eligible for 2017 induction and is on its fifth, and longest-tenured, drummer. "They've got exceptions they've already put in, like the Chili Peppers, which will come back to haunt them."
The hall plans to change the way it announces group nominations as a result of the uproar over the Kiss exclusions, which led to the group refusing to play at the induction ceremony, and the confusion over Channing's, which Peresman says he learned of from a secondhand text message from Nirvana's management.
"Going forward, we'll be more clear-cut from the beginning and more public about who's being inducted," Peresman says. "(The next time) we announce the nominees, we'll make sure to say, 'Here are the people being nominated.'"