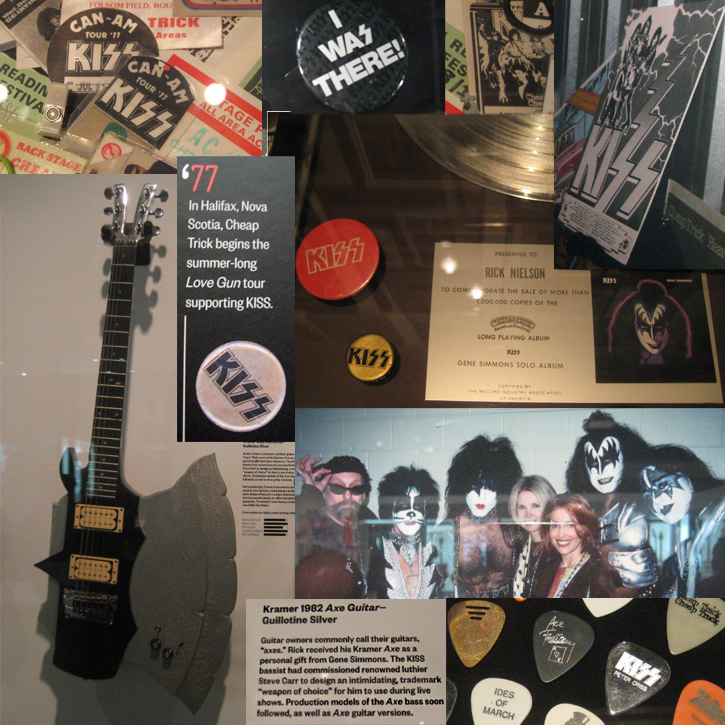 Rick Nielsen i Cheap Trick ställer ut en massa av sina rock memorabilia just nu i Rockford och en del KISS-prylar finns med.
This week we visited the Burpee Museum of Natural History in Rockford, Illinois, where Cheap Trick guitarist Rick Nielsen has a large exhibit of his favorite music memorabilia called "Rick's Picks: A Lifelong Affair With Guitars and Music." The quantity of items on display is astounding — it's a truly a love letter to rock and roll. And, as we spent hours looking through all of the guitars, photos, picks, tour posters and more, I realized how much of my favorite bands' histories are intertwined together.
There's plenty for KISS fans to enjoy in this exhibit. As you walk in, a timeline on the wall notes important dates in Cheap Trick's history, including their tour with KISS in 1977. We saw Rick's RIAA platinum album award for performing on Gene's solo album, a myriad of KISS backstage passes, buttons, picks and photos — even a Kramer Axe guitar that Gene commissioned and gave to Rick.
Here are some photos that I took of some of the KISS-related items on display at the museum. Enjoy!
Jill Cataldo/ KISSonline