En ny PodKisst, PodKISSt #53: 2011 KISS Kruise!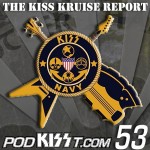 Set sail with the hottest band in the land as PodKISSt takes you on board the KISS Kruise with exclusive coverage you won't hear anywhere else! On this edition of PodKISSt, we're joined by Chris ("CWR18″), long-time member of the KISS Army, who recently joined the KISS Navy! Leaving no KISS fan behind, PodKISSt gets the inside scoop from Chris on what it was like to share a boat with Gene, Paul, Eric, Tommy, and KISS krazy passengers from all around the world! From "Getaway" to "Comin' Home," this was one trip fans won't soon forget! So anchors aweigh, KISS fans! It's PodKISSt… the KISS fanzine for your ears!
PodKISSt #53: 2011 KISS Kruise!