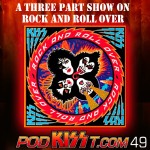 Då var det dags för en ny PodKisst, PodKISSt #48"Rock and Roll Over" Turns 35!
It's an album referred to by some fans as a "perfect" KISS record. It was an attempt by KISS to harness their live power on a studio release. It's 10 tracks of pure, unadulterated KISS. It's "Rock and Roll Over," and it's 35 years old! To celebrate the birthday of this KISS Army favorite, we're bringing you over 3 hours (!) of roundtable discussion, vintage interviews, track-by-track commentary, and live rarities! Join Ken, Gary, Joe Casey, and some of their PodKISSt pals for a larger-than-life installment of PodKISSt, guaranteed to make you feel "AH-AH, AH-AH, YEAH!"
PodKISSt 49: Rock and Roll Over Turns 35! Part 1
Join us as we dive into side 2 of this KISStoric record, with more of the commentary and rare KISS audio you wanna hear… right here on PodKISSt!
PodKISSt 49: Rock and Roll Over Turns 35! Part 2
Our celebration of 35 years of "Rock and Roll Over" continues with a trip back to the mid-1970′s, as we re-construct the story of this beloved record using rare, vintage interview clips and fantastic live tracks! It's what you've come to expect from PodKISSt, the KISS fanzine for your ears!
PodKISSt 49: Rock and Roll Over Turns 35! Part 3