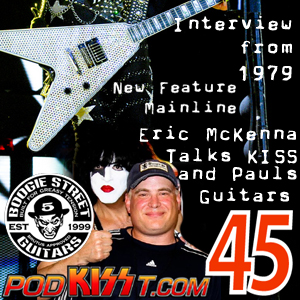 Då var det dags för en ny PodKisst, PodKISSt #45 We Love It Loud!
Nothing says "KISS" quite like loud guitars, and on this installment of the PodKISSt we bring you plenty of those! Join us for an in-depth, behind-the-scenes interview with Eric McKenna, the man who makes Paul's guitars. Plus, we take a trip back in time to 1979 for a rare KISS radio appearance… where the laughs belie the changes soon to come. And if that ain't enough, we bring you a new segment called "Mainline," where producer/musician Matt Walters provides us with an insightful editorial on all things KISS. All that… and an ear-shattering intro from Eddie ("Alive II") Balandas… on PodKISSt… the KISS fanzine for your ears!!!
PodKISSt #45 - We Love It Loud!