Peter Criss ska framföra en sång tillsammans med Rob Zombie, läs mer nedan: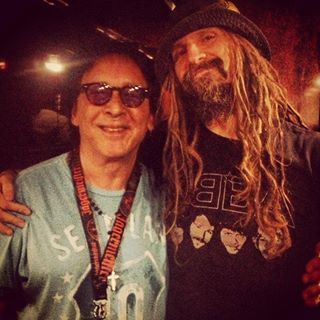 Peter Criss to Join Rob Zombie On Stage
Peter Criss may not be reuniting with Kiss again any time soon, but he's keeping busy. The newly minted Rock and Roll Hall of Famer will join Rob Zombie on Saturday, May 10 in Camden, N.J. for a performance of what they're calling a "special song."
It's not Zombie's first intersection with Kiss. He joined Ace Frehley, among others, to perform an update of 'God of Thunder' during a tribute to Kiss at the VH1 Rock Honors. Zombie in the midst of a 12-show tour in support of his first-ever concert DVD/Blu-ray 'The Zombie Horror Picture Show,' which is due on May 19.
The forthcoming film includes several Zombie favorites, including 'Living Dead Girl' and "Dragula,' along with several newer songs and a cover of 'We're An American Band' by Grand Funk Railroad. A photobook will also accompany the Blu-ray and DVD.
Criss' on-going disagreements with his former Kiss bandmates, with whom he shared stages from 1973–1980 and again from 1996–2004, weren't simply limited to whether or not to reunite for the Hall of Fame honor. Paul Stanley's new autobiography also accused Criss of anti-Semitism.