Intervju med Paul Stanley av Vulture.com: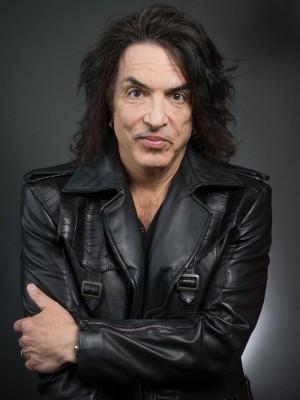 Kiss's Paul Stanley on Rock and Roll Hall of Fame Induction Snafus, His New Memoir, and Baboon Hair
Certain kinds of musical acts — the Springsteens, the U2s, the REMs — get inducted into the Rock and Roll Hall of Fame as soon as they become eligible, 25 years after the release of their debut recording. And then there are hugely influential and successful bands that, for entirely arbitrary reasons that many music writers, fans, and the belated inductees themselves have taken issue with, are made to wait years until they're allowed into rock's self-proclaimed Valhalla.
Kiss, being inducted at this week's Rock and Roll Hall of Fame ceremony at Barclays Center along with Nirvana, Hall and Oates, and others, falls in the latter category, somehow deemed worthy of inclusion after 14 consecutive snubs. But what might have been a celebratory moment for the band has turned into another PR issue for the museum's gatekeepers. First, the Hall insisted that the original quartet — front man Paul Stanley, bassist Gene Simmons, guitarist Ace Frehley, and drummer Peter Criss — be the only four inducted, with no love given to the six other musicians who have been official members of Kiss over the years. Making matters worse, they were told that only the estranged original lineup could perform at the ceremony, when Kiss leaders Stanley and Simmons had hoped to be accompanied by the stronger musicianship of Tommy Thayer and Eric Singer, Kiss members for the past decade. Besieged on one side by an institution bestowing recognition grudgingly and on another by disgruntled Criss and Frehley partisans, Stanley and Simmons resolved that Kiss will not play at the ceremony at all. On the eve of the induction ceremony and publication of his autobiography, Face the Music, Kiss front man Paul Stanley spoke to Vulture about the Rock and Roll Hall of Fame fracas and the fraught relations with Peter and Ace.
What's the main issue with the Rock and Roll Hall of Fame?
Well, the Hall of Fame can barely stomach us, so their way of letting us know who's boss is only inducting the four original members of Kiss, and not giving consideration to other members of the band performing on platinum records and world tours. This organization went to the Grateful Dead and asked them which minor members should be inducted, like their lyricist (Robert Hunter). And the Red Hot Chili Peppers' current guitarist (Josh Klinghoffer) had been in the band for two years before he was inducted. Clearly the rules apply only when the Rock and Roll Hall of Fame feels like it.
Why isn't Kiss playing the induction ceremony?
Kiss isn't like other bands; we don't perform in blue jeans and T-shirts. When most people see those iconic character designs, they don't think "that's Ace and Peter," they think "that's Kiss." I'm not going to roll the dice on a lineup where the musicianship could be substandard, or to dress Ace and Peter up in outfits they haven't worn in over a decade at the whim of an organization that doesn't want us there. Gene and I wanted to play with the two guys who we depend on and have done so as the guitarist and drummer in Kiss for a decade, as well as Ace and Peter.
Won't it be uncomfortable standing up at the podium with them?
In spite of differences that will never be resolved, there is no denying what the four of us created together. I can pick up the phone and call Peter and say, "We continue to disagree about almost everything, but let's make the most of this."
It seems like your fans, as well as people who do not dismiss hard rock and heavy metal out of hand, care more that Kiss will be in the Hall than you do.
I'm going to the ceremony on behalf of the fans who have stood by my side for 40 years. They do care more than we do, and that's good enough for me. But you know what? Kiss is the Rock and Roll Hall of Fame, more than any organization of old hippies and record executives could ever be. Look at the inducted artists, and past a handful, you have to scratch your head. It's clearly a matter of trying to fill slots, because they don't want to acknowledge artists, bands, and genres they don't like. I don't care if you like rap or disco, but this is not the rap or disco Hall of Fame.
Well, disco and hip-hop are a lot more rock and roll than your fellow 2014 inductees Cat Stevens and Linda Ronstadt.
Okay, I respect your opinion, but if a band like us or Deep Purple are not in, there's something wrong.
And right before the induction ceremony comes the first-ever Kiss cover story in Rolling Stone. The magazine has always held you at arm's length, but now they come calling.
Not coincidentally, the same people are behind both Rolling Stone and the Hall of Fame. We agreed to cooperate with the story to make a buck, but let's be clear, we're dealing with the same people who recognize Kiss only grudgingly. Rolling Stone did not mention the death of Eric Carr, our drummer for 11 years, in 1991.
It could be argued that the Hall's gatekeepers and people who came of age in the 1960s downgraded Kiss's importance owing to Gene Simmons's unapologetic, crass capitalism. But it's clear that your own priority has always been making the best rock and roll music you can.
I understand someone not accepting the merchandising and other aspects outside of the music itself. But I will stand by the fact that Kiss is rooted in bands I saw at the Fillmore East, like the Who and Led Zeppelin. Although we had more visual appeal, than, say, the Doobie Brothers, it was never to compensate for a lack of musical power.
You were always considered, out of the classic lineup, the one who would never write a book. Offstage, you are much more introverted than the other three, all of whom have written autobiographies. What changed now that you've written Face the Music?
Writing a book was completely off the table for me: Autobiographies tend to be love letters to the self. I changed my mind when I realized that I could offer people a road map to get through their tough times. I had been hiding my birth defect for most of my life, but I realized that success isn't the answer, and you can hide anything you want from the public or people around you, but you can't hide from yourself. So the idea that my story could be of assistance made the writing the book compelling And I wanted my kids to know who their dad is and what it took for me to succeed.
Your birth defect is microtia, a deformity wherein the afflicted are born without an external ear. You were mocked mercilessly as a child as "Stanley the Monster," and you grew your hair so that the stump where your ear would have been would be hidden.
I had five surgeries to craft an ear out of my rib in the early '80s. Beyond the pain and constant recovering, the result was terrific, but the things we think are solutions are oftentimes not. It took me another 15 years to truly come to terms with it, and move on.
When you were in bed with someone you would never see again, wouldn't that shit-ton of hair flip up so that she could see that you had no ear?
[Laughs.] I made sure when I was with girls that I had enough hair to not only cover my head, but could cover a baboon's entire body.
In his 2001 book Kiss and Makeup, Gene claimed that you are more image conscious, and that he is more concerned with the end result. In your book, you say the opposite.
Well, that's what it may seem like, but anyone who's been around us knows that Gene is always about a given impression, and I am always about content. He wants great sizzle and I want great steak.
He had a great line in his book: "The Italian mother says to her kids, 'If you don't do what I say, I'll kill you.' The Jewish mother says, 'If you don't do as I say, I'll kill myself.'"
[Chuckling.] Well, he poached that from me.
You've said that Kiss as a live band should and will outlast your own and Gene's active participation. Have you seen anyone from the many Kiss tribute acts who could inhabit the StarChild character?
I haven't seen anyone yet, but I know somebody — probably more than one — will come forward. I am the product of all my influences, and it would be no different for anyone who takes my place as the front man of Kiss.
KÄLLA www.vulture.com