Intervju med Paul Stanley av Bravewords.com: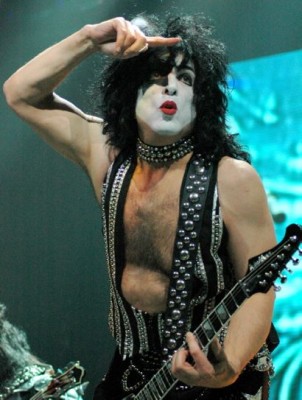 KISS' Paul Stanley Interview Part II – "We're So Much Bigger Now Because We're Superman, But Don't Have To Hide Behind Clark Kent"
Special Report By Mitch Lafon
On June 10th, Paul Stanley held a special press only conference call to discuss KISS' upcoming tour with Def Leppard and his New York Times' best selling book, Face The Music: A Life Exposed. Journalists from across Canada and the US were able to ask one question plus a follow-up. What you will read below are Paul's answers to the questions that were posed (in proper sequence) by the various media invited to the one-hour event. In part two, Paul addresses more local issues as well as the importance of supporting the troops.
When asked about performing for Nashville audiences, Stanley had this to say, "We've been coming to Nashville since playing Mother's (April 1974)which for me was a legendary show. I still remember the yellow t-shirts. We were coming to Nashville when perhaps there was a large segment of Nashville that didn't quite embrace us. Things have changed over the years. Nashville has always been a music community; although the scope of what was called country was much narrower when we first came in. Country music now is not only built on Hank Williams, Loretta Lynn or George Jones. It's reached a point now where it's also built on The Eagles, Queen, and KISS. Many of the later generations of country artists grew up embracing rock n' roll. It's an incredibly vibrant and healthy community. It's fertile to say the least and I love what Nashville has evolved into. There's a lot of great music coming out of Nashville. We know we're playing for musicians that we respect and we go in there to do our best."
In years past, many bands including KISS controlled the amount of information that was available to the public. Now with social media, everything becomes immediate fodder for public consumption. Asked if there is simply too much information available these days and if it hurts the mystique, Paul replied, "Certainly, in all walks of life (in terms of public figures) there is a certain mystique that is gone because everything is known. I think mystique is healthy. I think to glamorize and fantasize is a good thing. I'm not sure KISS could have accomplished what we did initially in this time because we could make sure photos weren't available. The paparazzi didn't have photos of us out of makeup. We could create this mystique. It wasn't unlike the mystique of Hollywood in the '30s and '40s which was a romanticized version of reality. I'm a fan of it. We've progressed and evolved over time into something much bigger in scope, but our roots are quite clearly in the mythical."
Shifting gears, Paul was asked about what he remembers about 'that first gig' at the Coventry (1973). "What I remember about that first gig was that the commitment and conviction that the band had to itself," began Stanley, "In delivering what it believed was missing in music. The focus, the sense of what we are and what we represent has never changed. It didn't matter whether we were playing for twenty, 20 000 or 200 000 people. We are KISS," he added proudly. "We started building a legacy at that very first show and it's never veered from that. Going out on our 40th anniversary tour is just a way to re-state who we are, put our eight inch heels firmly back on the ground and let people know that the legend lives. Everything they heard remains true. This is a band unlike any other band and you only have to come see us to know it. When we started there were no shows like ours. Then it reached a point where many bands had 'KISS shows'. Any band with money can do a 'KISS show', but no band can be KISS."
Asked if any of the 40th anniversary shows will recorded to form the basis of a KISS Alive 5 album release, Stanley remarked, "I'm not even thinking that, but things can change on a moment's notice. The band has never sounded better. The response has never been better, so anything is possible."
The from 'left-field' question of the day came from a journalist who pondered the possibility of having Tom Morello with a reunited Audioslave join the tour as support. The ever gracious Stanley replied, "Audioslave? Chris Cornell is out with Soundgarden. We really had no talk of that. We're out there celebrating as we should and having Def Leppard is a great thing because their catalog of songs is terrific. It's a great way to spend a summer night. I have no doubt Tom will be at shows. I would doubt Audioslave will be there." Stanley, however, did add, "I just saw a Tom at his 50th birthday. Tom was Moses as far as leading the Rock N' Roll Hall Of Fame to the conclusion of having us inducted or indicted (which ever you choose). Either they were convinced by his passion or they doubted themselves enough to go along with it, but in any case Tom did a stellar job and he's an incredible human being."
Asked point blank if he'd ever visit the Hall Of Fame in Cleveland, Paul commented "Up until this point, I wanted very little to do with it," and added, "because here was an annex of an organization that was asking for our memorabilia so that they could charge (people) money to come see it, yet they didn't want us in their club." But Stanley concluded his thought surprisingly with, "I would love to see it at this point."
Growing up in the '70s and '80s KISS fans 'were relentlessly persecuted by the self-arbiters of taste' (this reporter included). That seems to have stopped as KISS have become as iconic to America as apple pie. Stanley was asked about the 'change in attitude over the last 40 years'. "I can sum it up in one sentence: Time tells all. What happened over time is those critics, naysayers and the people who were clueless to what we were doing… We were a pure rock n' roll band who didn't add anything to hide what wasn't there, but only added to enhance what was there. The 'people on the street' became the critics. The 'people on the street' became the executives. The 'people on the street' outlived the critics. That's part of our victory celebration is that fact that we have outlived and, in essence, taken over."
Asked about KISS' support of the Wounded Warriors, Stanley replied, "As far as the Wounded Warriors, we've been very vocal over the past years of our obligations to our troops. To the people who serve voluntarily and put themselves in harm's way, so that we can live in a free society. Sadly, many of us seem to take it for granted. These freedoms we have come at a huge price to people who go unrewarded and unheralded for what they do. So over the years, we've given a dollar from each ticket (on various tours) and that's what we're doing once again. I can't say enough about the people who serve on our behalf. What we do wouldn't be possible without what they do. I love being on stage and letting people know that there's nothing corny about patriotism. There's nothing corny about celebrating this great country. You only see people going over the borders to come into this country. You don't see them going over or under the borders to get out."
Returning to the local theme Paul was quizzed about having any particular memory of St. Louis that might stand out. Without hesitation he quipped, "The KSHE kite flying contest (March 1974). It was the first time we played St. Louis. We were sitting in the back of a van all dressed up and the doors opened up. There was a stage set up and we made our mark. From there, it was Kiel Auditorium and the Checkerdome. It's been a great relationship over the years and going back to St. Louis is like going to see old friends because we've seen some of these people so many times over the years. It's incredible to come back to cities and see multi-generations of fans. It's a source of pride for us that we can have a six year old, a sixteen year old and a sixty year old. We're all part of this tribe. There are many cities for us that are special and St.Louis is certainly one of them."
Finally, in part two, Stanley was asked if he misses the ability to go out and 'do stuff' anonymously. "You don't complain about taxes if you win the lottery. It never was a source of stress or a point of contention. We're so much bigger now because we're Superman, but don't have to hide behind Clark Kent. We live as we do and it's the right time for us to be as we are. KISS and us offstage can co-exist. It's never been better than now."
Check out part I of our Paul Stanley interview this location.