En artikel från New York Post den 6 april 2014: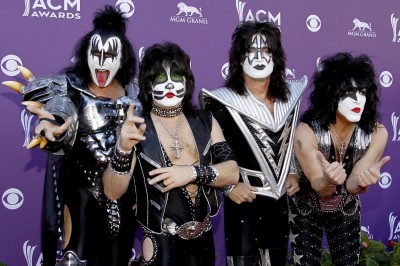 Paul Stanley dishes on Simmons rivalry
When Paul Stanley, frontman and rhythm guitarist for the band KISS, married in November 2005, he shared his joy with friends and family, including bandmates Eric Singer and Tommy Thayer.
Notably absent from the ceremony: Stanley's longtime musical partner, KISS bassist Gene Simmons. He wasn't invited.
"Your views on marriage are your own," Stanley told Simmons, who publicly denounced the concept of marriage until his own nups in 2011. "But when you insult and demean people who get married and ridicule or dismiss the idea of marriage, you have no place at a wedding."
The incident is replayed in Stanley's memoir, "Face the Music: A Life Exposed," written with journalist Tim Mohr and out Tuesday. Given the band's history of party-every-day ethos, Stanley's willingness to reveal his deepest insecurities and resentments is stunning.
The greatest revelations come from Stanley's candor about his decades of disappointment with original KISS members Ace Frehley (lead guitar) and Peter Criss (drums) — and, yes, Simmons.
Stanley, born Stanley Eisen in Manhattan, met Simmons — né Chaim Witz from Israel — in 1970. Back then, Stanley writes, the bassist was "very overweight . . . wearing overalls and sandals and looked like something from 'Hee Haw.' " Still, their goals were compatible, and the two quickly evolved into a solid creative team, forming the band that would, in 1973, become KISS.
Known for their outlandish alter egos — for years, they were never seen without identity-disguising face paint— KISS hit it big with albums like "Alive" and "Destroyer." (Over the next four decades they would ditch the makeup, then re-embrace it, with various members leaving and returning. The only original members currently in the band are Stanley and Simmons.)