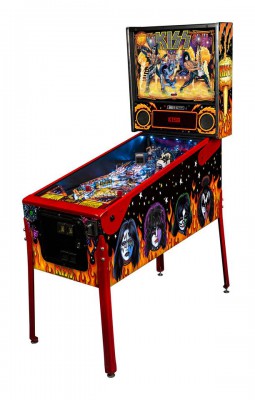 Stern Pinball joins the KISS Army with its release of KISS Pinball
World's Leading Maker of Arcade-Quality Pinball Games and KISS' Global Brand Management Firm Epic Rights Announce Newest Addition to Rock Collection
ELK GROVE VILLAGE, IL – May 6, 2015 – Stern Pinball, Inc., the world's oldest and largest producer of arcade-quality pinball machines, and Epic Rights, KISS' global licensing agent, jointly announced today the availability of a new line of Pro, Premium and Limited Edition KISS pinball machines, honoring one of the most influential and iconic rock bands of all time.
Formed in 1973, KISS is recognized for unique face paint, stage outfits and cornerstone personas known as: "Starchild," "the Demon," "Catman," and "Spaceman." KISS rose to popularity in the mid-1970s with their elaborate live performances and theatrics, including fire breathing, blood spitting, smoking guitars, shooting rockets, levitating drum kits, and pyrotechnics. KISS is highly regarded as one of the most influential bands of all time with worldwide album sales exceeding 100 million records. KISS has an unprecedented 28 gold albums to date, the most of any American rock band.
Stern Pinball's KISS pinball machines reflect the energy, excitement, and experience of a live KISS concert. Players will experience10 famous KISS hits in the concert arena playfield and embark on an exhilarating experience ultimately becoming elite members of the KISS Army. Players score points and finish game objectives to fuel the audience's energy and excitement. Higher scores amp the experience–the higher the energy level, the bigger and louder the show–resulting in a KISS concert experience like none other. Players are awarded for completing game goals with a variety of in-game front row seats, backstage VIP access and fun multi-ball modes that thrill players of all skill levels.
The game is built on Stern's new SPIKE pinball platform, which includes an upgraded high-fidelity 3-channel audio system over 3 times more powerful than previous generation pinball audio systems. KISS Pinball includes an amazing array of modern and retro features to appeal to players of all skill levels:
● 10 famous KISS hit songs: Deuce, Hotter Than Hell, Lick It Up, Shout It Out Loud, Detroit Rock City, Calling Dr. Love, Rock & Roll All Night, Love Gun, Love It Loud and Black Diamond
● Custom speech from Paul Stanley and Gene Simmons
● Full-color high-intensity animated LED music lights
● High-fidelity stereo sound effects and music
● Original Gene Simmons/Demon head molded toy
● K-I-S-S spell-out Drop Targets
● Blood-Spitting Demon Bass Solo player experience
● Fire-Breathing Demon "God of Thunder" Multiball Event
● Flying Starchild "Love Gun" Multiball Event
"Partnering with rock royalty like KISS is a natural for us," said Gary Stern, Chairman and CEO of Stern Pinball. "The KISS legacy is admired generation after generation by fans worldwide – KISS' legendary songs and performances will create an extraordinary pinball experience for players of all skill levels."
"We are always seeking avenues to expand the KISS brand experience, and the new line of KISS pinballs from Stern are an ideal extension of the brand, providing an immersive KISS experience for consumers of all ages, "said Lisa Streff Executive Vice President, Global Licensing, Epic Rights.
Pricing and Availability:
Pro Model:
Premium Model:
Limited Edition Model:
$5,995 MSRP/ $7,595 MSRP /$8,795 MSRP
KISS Pinball is available through authorized Stern Pinball distributors and dealers around the world.
About Stern Pinball, Inc.
Stern Pinball, Inc., headquartered just outside Chicago, Illinois, is the oldest and largest producer of arcade-quality pinball games in the world. Stern's highly talented creative and technical teams design, engineer and manufacture a full line of popular pinball games, merchandise and accessories. Recent Stern titles include WWE WrestleMania, The Walking Dead, Mustang, Star Trek, Metallica, The Avengers, X-Men, AC/DC, Tron, Transformers, Avatar, Iron Man, Batman, Spiderman and many more! All of Stern's pinball games are crafted by hand and assembled by Stern's expert team. A broad range of players enjoy Stern's games from professional pinball players that compete in high-stakes international competitions around the globe to novice players who are discovering the allure of the silver ball for the first time. To join the fun and learn more, please visit www.sternpinball.com.
About Epic Rights:
Epic Rights is a full service global branding, licensing and rights management company dedicated to building celebrities and entertainment brands via its broad global network of retailers, licensees and agents. Working with a roster of top clients and brands, Epic Rights' services includes licensing/branding, music merchandising, social
media management, VIP ticketing and fan clubs. Epic Rights also oversees sponsorships and endorsements, digital archiving of all creative/photos/media assets and manages worldwide e-commerce for its clients in addition to providing in-house legal
resources for trademark registration and audit management. Epic Rights is headquartered in Los Angeles, California. For more formation, visit: www.epicrights.com