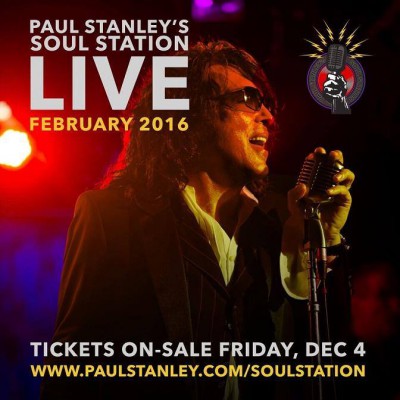 Paul Stanley kommer att i slutet av februari köra tre spelningar till med sitt hobbyband Soul Station i Kalifornien.
När nedan hittar Ni all information om Ni är på plats vid denna tiden i Kalifornia.
Soul Station will hit the stage at San Juan Capistrano's The Coach House on February 26, Agoura Hills' The Canyon on February 27 and Pasadena's The Rose on February 28!
Paul Stanley/Soul Station Dates 2016
| | | |
| --- | --- | --- |
| | | |
| | | The Coach House |
| | Agoura Hills, CA | The Canyon |
| | Pasadena, CA | The Rose |
Stanley recently debuted Soul Station with a sell-out show at Los Angeles' storied Roxy Theatre on September 11, 2015 where Yahoo hailed "Stanley's enthusiasm was so infectious" and a "making for a sweet night of soul celebration." Tickets for the shows will go on sale beginning 12pm PT on December 4 at www.paulstanley.com/soulstation.
"We're living in a time of being fed canned pre-programmed backing tracks and lip syncing in place of the electricity and passion of real live R&B," says Stanley. "When I was a boy, before I ever saw the Who or Led Zeppelin, I saw Solomon Burke and Otis Redding. I saw the Temptations and all that music is part of the foundation of the music I've made. Soul Station is my chance to celebrate it for a night that's real, live and faithfully recreates the sound with the respect it deserves. Whether it's the Stylistics, the Dramatics, the Temptations, Smokey and the Miracles, Blue Magic and on, these songs, arrangements and sound just blow you away." To clarify further he adds, "I don't play guitar in the band and we don't do a single KISS song. That's not what this is about," Stanley continues. "It's magical to hear those songs played right and we're making magic."
Stanley's legendary band members will include: Rafael "Hoffa" Moreira (guitar & backing vocals), Sean Hurley (bass), Alex Alessandroni (keyboards), Ely Rise (keyboards), Eric Singer(drums & backing vocals), Ramon Yslas (percussion), Jon Papenbrook (leading horns), Nelson Beato (backing vocals), Crystal Starr (backing vocals), and Laurhan Beato (backing vocals).
– See more at: http://www.kissonline.com/#sthash.qRfwyehk.dpuf