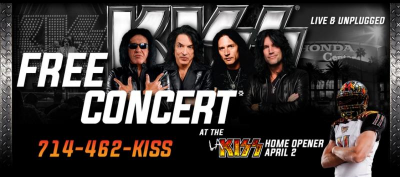 KISS kommer den 2:e april att spela på Honda Center i Los Angeles då det är premiär för nya säsongen för LA KISS. Följande text är från pressmeddelandet:
LA KISS SEASON OPENER ON SATURDAY, APRIL 2ND vs JACKSONVILLE SHARKS
Los Angeles, CA (February 11th, 2016) – On Opening Night of the 2016 LA KISS Arena Football season, legendary and multi-platinum selling rock band KISS is set to perform an exclusive pre-game acoustic concert for all of the LA KISS Season Ticket Holders. This is a rare opportunity to see the band stripped down and makeup free as they perform acoustic versions of their hit songs that have sold over 100 million copies worldwide. For one admission, Season Ticket Holders will get a sports experience unlike anything else; with a concert, a pyrotechnics show, laser lights, performers and the most fast-paced, high-action football around. This will be the season to watch for the LA KISS. Opening Night the LA KISS will kick off against the Jacksonville Sharks on Saturday, April 2nd, 2016 at 6:00pm at Honda Center in Anaheim, California.
"We are really psyched to have KISS playing a pre-game concert for our Season Ticket Holders on opening day. We have great owners that are legendary performers and the fans love it when they see them at the games to cheer on the team", said LA KISS CEO, Joe Windham.  "We have made some big off season acquisitions and expectations for the football team in its third year are running high. Paul and Gene are set to attend every game this year and help coax the team to finish in the top of the pack to secure a home playoff game. LA KISS will be upping the entertainment ante again by having KISS kick off the season in true rock fashion."
– See more at: http://www.kissonline.com/#sthash.4yTn1qOq.dpuf