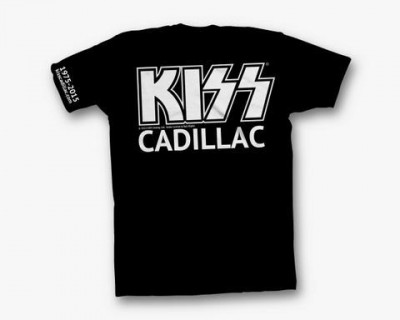 I år är det 40 år sedan KISS spelade i Cadillac, MI, USA, en av de större historiska händelserna i KISS historia.
An exclusive KISS Cadillac T-shirt will be available during the the KISS Cadillac Homecoming 40th Anniversary Celebration on October 9-10. The KISS Cadillac shirts have been officially licensed by KISS and will be in limited supply.
The design is elegant in its simplicity. The front of the black T-shirt will feature the official traditional KISS logo. Below that will be "Cadillac" is large letters. On the sleeve will be "1975-2015, kisscadillac.com." Event co-chair, Joy VanDrie notes: "Our KISS Cadillac T-shirt has never been seen before and will never be seen again."
Jim Neff, event co-chair, explains that the license agreement is very specific. "The shirts cannot be sold online or at a retail establishment. They can only be sold at the KISS Cadillac event or at the Cadillac Area Visitors Bureau. All proceeds must go toward the KISS Cadillac monument fund (a charity)."
The demand for these one-of-a-kind shirts is sure to be very high. In order to be completely fair to everyone, the KISS Cadillac planning committee felt that those people supporting the event by purchasing a ticket to the KISS Cadillac tribute concert (October 10, 2 PM, featuring the World's Best KISS Tribute Band, Mr. Speed) should have the first opportunity to buy a shirt. All net proceeds from the concert go to the Cadillac Viking Athletics Boosters and Cadillac Viking Band Boosters.
– See more at: http://www.kissonline.com/#sthash.gdrQnrWz.dpuf