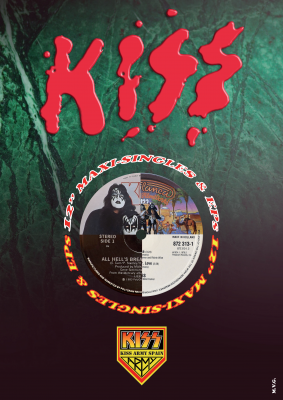 KISS ARMY SPAIN IS BACK AGAIN!! After the huge success of the Kiss Spanish Cassettes, this time it is the turn of another great KISS book for collectors, written by one of its members more distinguished who after many months of research and dedication has decided to do and share this master piece of collecting world with all the fans and released through the best fan club in history: KISS ARMY SPAIN.
Book catalogue-type in A4 size with 144 pages, which features all the official KISS 12″ maxi-singles and EPs released in all the known countries around the world during their 40 years of history. The book compiles more than 90 records from 15 countries, with more than 400 full-colour high-quality photos, including promo vinyls, test pressings, etc… The book certainly includes dates of release, serial numbers, record companies, misprints, rare data and labels with variantions. The ultimate guide for the KISS vinyl fan and the true maxi-single/EP collector.
The book can be ordered in two languages: English and Spanish. The book will have great quality paper and professional finished. It will be made in a very limited edition.
You can pay by Paypal to the following address:
mamenyjavier@telefonica.net
and then send e-mail to:
web@kissarmyspain.es
with your name and address and language chosen of your copy and the receipt or copy of your payment enclosed. All the books will be shipped late January/beginning of February. Price is 30 euros + 15 euros registered mail within Europé.