Intervju med Paul Stanley av www.clevescene.com: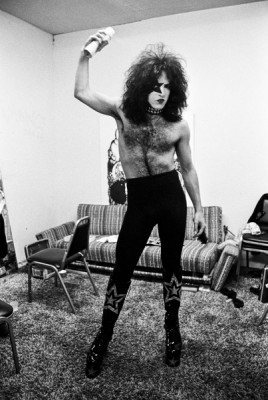 KISS frontman Paul Stanley addresses controversy surrounding band's Rock Hall induction
This week KISS will be inducted into the Rock and Roll Hall of Fame. There have been no shortage of verbal pyrotechnics and plenty of controversy surrounding the group since its induction was announced last fall. The controversy is largely centered around the decision to induct only the four original members — Gene Simmons, Paul Stanley, Ace Frehley and Peter Criss. Joel Peresman, the New York-based President and CEO for the Rock Hall defended the decision in a recent interview with Rolling Stone, telling the magazine, "With KISS, there wasn't a single person we spoke to that didn't feel the reason these guys were being inducted was because of the four original members." During our phone conversation with KISS bassist/vocalist Paul Stanley, a founding member of the group, he made it clear that they don't lose a lot of sleep (or any) thinking about the critics. The opinions that really matter are those of the fans who have supported KISS nearly nonstop throughout its 40-year history as a band. In his words, they've "taken the test" and they've bought the albums and come to see the shows. At the end of the day, he says that no matter what the critics might think, "I'm proud of what I've done and I'm proud to continue doing it." For the first time, Stanley is telling his side of the story in depth with his new book Face the Music: A Life Exposed. Weighing in at nearly 500 pages in length, it's an engaging read that covers quite a bit of ground. We spoke with Stanley about the new book and he shared some of his memories of Cleveland during the conversation. He also gave us a brief glimpse of what's left on the agenda of things he'd like to accomplish.
It's great to talk with you.
Well, Cleveland Scene is a paper that I've known well for quite a long time.
What are some of your earliest memories of playing Cleveland?
Musically, I always remember the Agora, which was one of those great stepping stones to playing your theaters. It was a great concert club and attracted a lot of great bands and we had a lot of fun there. The fun usually continued at Swingo's, which fortunately or unfortunately is long gone. That was a hotel that was in a way a monument to everything rock and roll. You know, Cleveland, whether it was 'MMS….there was definitely a Cleveland mindset that was very, very appreciative and very tuned into what we were doing, from very early on.
I remember seeing a picture around the time of the reunion tour with you guys and the Belkin brothers who were also wearing the makeup. KISS definitely came up at a time where relationships with the right promoters were a make or break thing so key to a band's career.
Well, there was a time where each region had a promoter or choice of promoters and some of those guys were terrific and the cream always rises to the top. Jules Belkin and his whole family, they were our Cleveland family. I still love seeing any of them, Mike or Jules [Belkin] or any of them.