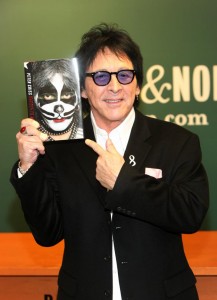 Lydia Criss uttalar sig för sidan Ultimate Classic Rock och påstår att Peter Criss bok består av många lögner. Härnedan kan Ni läsa artikeln:
Ex-husbands and ex-wives have been calling each other liars ever since divorce was invented. But when the former spouses in question each have their own book to promote, things tend to get interesting.
Take, for example, the case of Lydia and Peter Criss, who've been split up since 1978, but will forever be inextricably bound by the fact that Lydia was Peter's significant other during the early days of Kiss, when Peter was just another young drummer with big dreams and cat whiskers painted on his face. He's long since left the band, of course, but he shared his take on the group's story in his 2012 memoir, 'Makeup to Breakup: My Life In and Out of Kiss' — a book whose accuracy is now being disputed by Lydia.
The former Mrs. Criss — who published her own Kiss-inspired autobiography, 'Sealed With a Kiss,' in 2006 — recently spoke with Legendary Rock Interviews about some of the more sensational stories in her ex's book. Unsurprisingly, she doesn't put a lot of stock in his version of events.
"I know Peter, I was with him for 13 years, I've known him for 40 years," she pointed out. "Peter is very dramatic, he's an exaggerator, he's a complainer, he's a liar."
In Lydia's view, much of what Criss wrote in 'Makeup to Breakup' was motivated by a desire for revenge. "When we were married, there was a point where I was actually uncomfortable with him putting me on such a pedestal, and then his book comes out and he basically says he didn't care for me that much," she pointed out. "He's trying to get even with me for what I wrote, which was the truth, in my book. Peter's book is not the truth and that's proven, even by stupid little things."
Responding to the interviewer's argument that at least Peter's book makes for interesting reading, as opposed to the one published by his fellow Kiss exile Ace Frehley, Lydia countered, "At least Ace told the truth in his book, Peter didn't. There are stories in Ace's book that I knew should be in his book and they were there. There are things in Peter's book that just don't add up."
One Kiss memoir she can't comment on? Gene Simmons' 'Kiss and Make-Up.' "I never really read Gene's book," laughed Lydia. "I looked at the credits and looked for my name in there, but that was about it."