Kiss kommer att ha med två krigsveteraner på sin kommande turné med Def Leppard, artikel från artistdirect.com: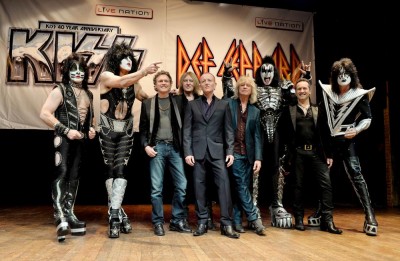 KISS & Def Leppard to Hire Vets for Tour
Calling all vets! KISS and Def Leppard support you and have a job ready and waiting for you! All you have to do is apply.
The bands confirmed their commitment to hire two veterans as roadies for their 2014 summer tour as part of the U.S. Chamber of Commerce Foundation and Capital One's Hiring 500,000 Heroes campaign. The bands jointly dedicated their upcoming summer tour to the military community. Following a nationwide search, two veterans will be chosen to support the bands' production team on the 42-city North American tour.
This will be the second time Kiss has carried out a nationwide search for a veteran roadie. Two years ago, Army veteran and longtime Kiss fan Paul Jordan was chosen to join a summer tour after a review of 1,900 applications sent in from coast to coast.
He went on to tour 44 cities with the band, helping with the set up and breakdown at each stop. Looking back after the tour closed, Jordan said, "I know now that life exists after military service. You just have to find something you're passionate about and go get it. There is a world of opportunity out there."
"It is our privilege to draw attention to the obligation we all have to the brave men and women who volunteer to risk their own lives to protect the liberties and freedom that we all take for granted. We should all jump at any opportunity to provide any assistance needed by our warriors. Heroes deserve jobs!" said Paul Stanley, lead vocalist/guitarist of Kiss.
Kiss and Def Lep are putting the money with their mouths are. This is a HUGE deal and we applaud them for hiring vets and putting them to work on tour.
"Having our own wounded warrior in Rick Allen, we've always had a close tie with the military," said Joe Elliott, lead vocalist of Def Leppard. "To carry on and further our contribution by giving a little back, and hopefully helping fulfill a dream or two, we're more than happy to show our support."
Both groups have agreed to donate $2 of every ticket sold to various military nonprofits, including Hiring Our Heroes, the USO, Project Resiliency/The Raven Drum Foundation, Augusta Warrior Project, and Wounded Warrior Project.
Veterans who wish to apply for the positions can go to Military.com/Heroes for more information. All applications must be received by Friday, May 9 at 11:59PM. Military.com will work with Kiss and Def Leppard to select the final two veterans.
You have a few weeks! Hurry up and apply. Pass it on to out-of-work vets you know, too!