Kiss kommer att uppträda på Hard Rock Hotel & Casino, vi får hoppas att spelningarna kommer att bjuda på många överraskningar.
Mer om spelningarna nedan: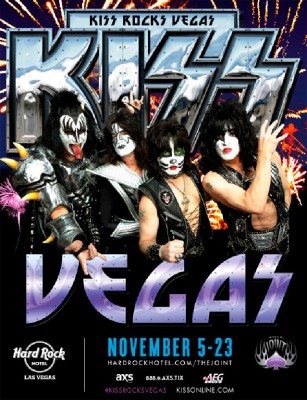 KISS ROCKS VEGAS
LAS VEGAS, NV (July 14, 2014) — Rock 'n' roll legends KISS celebrate 40 years as music icons with their first-ever residency, KISS Rocks Vegas, at The Joint inside Hard Rock Hotel & Casino Las Vegas starting Wednesday, Nov. 5 through Sunday, Nov. 23. Show time is 8 p.m.
Beginning Monday, July 14 at 10am, KISS Concert Club members will have exclusive access to a presale. Click here to join now and be a part of this intimate and epic event.
PLEASE NOTE: Once you have purchased your KISS Concert Club, log in to kissonline.com and visit the tour page to get your unique presale code. Each code has a four ticket limit.
"What happens in Vegas will not stay in Vegas, not if we have anything to do with it. We intend to blow the roof off the Hard Rock Hotel & Casino," said Gene Simmons, founding member of KISS.
Four decades after beginning its exemplary journey as one of the leading rock 'n' roll bands in the world, KISS continues to make waves with one of the loudest, most over-the-top, non-stop parties at The Joint. Designed exclusively for The Joint in partnership with AEG Live, the chart-topping band will unleash its signature elaborate set designs, jam-packed set list, intense pyrotechnics and much more for nine of the biggest shows in KISS performance history.
KISS Rocks Vegas dates:
Wednesday, Nov. 5
Friday, Nov. 7
Saturday, Nov. 8
Wednesday, Nov. 12
Friday, Nov. 14
Saturday, Nov. 15
Wednesday, Nov. 19
Saturday, Nov. 22
Sunday, Nov. 23
*show time is 8 p.m.
See you in Vegas!