Till hösten ska Kiss till Las Vegas enligt rykten och annonsering, vi får avvakta och se vad det blir. Nedan från Blabbermouth.net: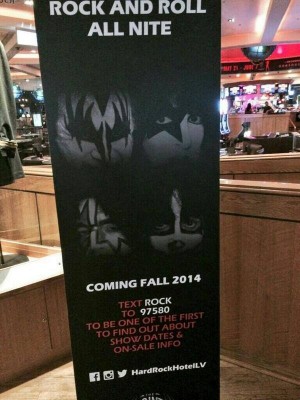 KISS Las Vegas Residency Coming This Fall
KISS is rumored to be planning a Las Vegas residency at the Joint at The Hard Rock Hotel And Casino this fall.
Several signs hinting at the run of shows have been spotted around Vegas, including the one seen in the tweet below.
KISS frontman Paul Stanley confirmed late last year that the band was considering a Las Vegas residency.
DEF LEPPARD, MÖTLEY CRÜE and GUNS N' ROSES have all completed successful Las Vegas rock residencies, with the latter two acts having already undertaken their second stints at the Joint.
Residencies enable venues to say they have established relationships with certain performers, who have often tailored shows specifically for the residency period.
DEF LEPPARD's 2013 three-week "Viva! Hysteria" run in Sin City included a performance of the band's greatest hits, plus their 1987 album "Hysteria" in its entirety.
GUNS N' ROSES' fall 2012 "Appetite For Democracy" shows celebrated twenty-five years of "Appetite For Destruction" and four years of "Chinese Democracy".