En bit kisshistoria genom Jay Gilberts ögon: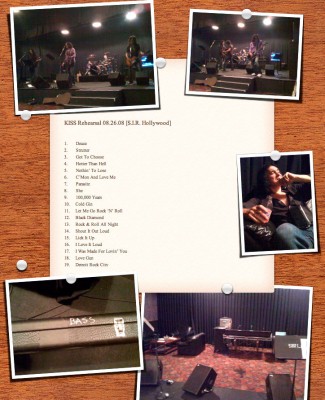 KISS STORIES #1: "Table for One"
You're not going to believe this but I once witnessed an entire KISS concert, alone.
On August 26, 2008, KISS was rehearsing at SIR in Los Angeles. I was visiting with a friend in the KISS camp who knows I love the band. He said I could stay for the rehearsal if it was ok with Paul. He ran it by Paul, it was ok.
At the start, there were guitar techs and people from McGhee's camp around but as the band played through the set, everyone disappeared. It was me… and the band… alone… in a rehearsal studio! I didn't know what to do. Should I just sit and watch? Should I look at my phone and try to look inconspicuous?
I decided on the latter but almost immediately the guitar picks started wizzing by my head (from Paul) as if to say "You're lucky enough to be here… you better pay attention!" So I did.
It was loud. It was tight. It was KISS.
They played an entire set, encores and all. To me. There wasn't another soul in sight.
After the rehearsal, the band congregated on the leather couch and chairs (see bottom right photo above) where I was trying to be cool. Doc huddled with the group to discuss business.
After everyone had left I helped my friend load the band's instruments into his car. There was a photo shoot the next day and the boys would be needing them.
I thanked him profusely then drove off. I called my brother, Jeff. "You are not going to BELIEVE what I just witnessed…"
"You wanted the best…"
källa jaygilbert.tumblr.com