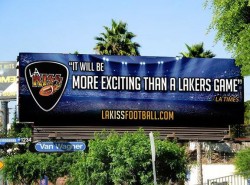 Imorgon, lördag, spelar KISS på Dodgers Stadium i Los Angeles i samband med den stor utomhus ishockey-matchen mellan Anaheim Ducks och LA Kings.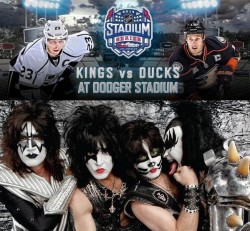 2014 Rock and Rock Hall of Fame Inductees to Share NHL Stage with Anaheim Ducks and Los Angeles Kings
Limited Number of Tickets Available to Ducks-Kings Outdoor Game at Dodger Stadium – http://s.nhl.com/smBVv.
Legendary American rock band KISS will rock the house at Dodger Stadium as part of the 2014 Coors Light NHL Stadium Series™ outdoor game between the Los Angeles Kings and Anaheim Ducks tomorrow, Jan. 25. Paul Stanley, Gene Simmons, Tommy Thayer and Eric Singer will perform during the pre-game festivities and first intermission of the game, which will be broadcast live at 6:30 p.m. PT / 9:30 p.m. ET on NBCSN in the U.S. and on CBC and RDS2 in Canada.
"Los Angeles is the premier hub for sports and entertainment in this country and we are honored to be part of an event that fuses both by rocking the first-ever outdoor NHL game in LA," said Gene Simmons.  "Fans can expect a spectacle at Dodgers Stadium, similar to the one we will be creating at the Honda Center this season with our new Arena Football team, LA KISS."
"Our goal with the NHL Stadium Series games is to give our fans an unforgettable experience," said NHL Executive VP and Chief Marketing Officer Brian Jennings. "Having KISS headline our entertainment lineup is the perfect way to make our celebration of hockey in Southern California even bigger and more memorable."