ICONIC BAND KISS TO RELEASE iBOOK FOR CRITICALLY ACCLAIMED ALBUM MONSTER
"KISS' 20th studio album 'Monster' is scary good" – Associated Press, 2012
KISS släpper nu sin första iBook, läs här nedan vad dom själva skriver om den: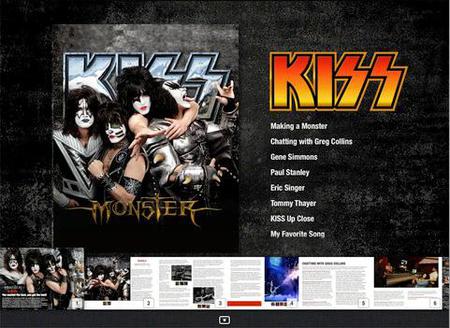 On December 18, KISS will release their first ever iBook for their critically acclaimed, recent studio album release, MONSTER.  The content of the iBook is comprised of a special edition digital book which includes an exclusive bonus video, "Shout It Out Loud (Live in Anaheim 1976)," interviews with all four members as well as a multitude of additional unpublished pictures and a preview for the blistering new music for DESTROYER: RESURRECTED and MONSTER.
Rock legends KISS returned with Monster, the 20th studio album in their historic career released October 9, 2012, through Universal Music Enterprises. The 12-track, straight-ahead rock 'n' roll album features collaborations among all four members—including co-founders Paul Stanley and Gene Simmons and longtime members guitarist Tommy Thayer and drummer Eric Singer—in an album that shows the band at the top of its game. And that's saying something, considering their illustrious, 40-plus year history—28 U.S. gold albums, the most gold records for any American rock band, 40 million sales in the U.S., and a total exceeding 100 million worldwide.
iBook content includes:
• Interviews with all four band members as well as album co-producer Greg Collins • Exclusive bonus video of "Shout It Out Loud (Live in Anaheim 1976)" from the KISS vault • A plethora of photos exclusive to this iBook including backstage shots, live performances and snapshots from the recording studio • Lyrics plus band commentary on all MONSTER tracks • Article on the band's support of our troops • Features on the band's merchandising, the Monster Mini Golf experience, the KISS Kruise and the 2012 newly remixed reissue of DESTROYER: RESURRECTED, plus KISS's newest box-set collection, The Casablanca Singles: 1974-1982 • Loads of KISS facts throughout including an interactive map of the U.S. with historically important locations • Audio samples of the 12 MONSTER tracks and the iTunes exclusive bonus track "Right Here Right Now" as well as DESTROYER: RESURRECTED
This book is available for download on your iPad with iBooks or on your computer with iTunes.
http://umusic.ly/KISSMonsteriBook.