En artikel från Kiss Army Spanien som är översatt med Google  Translate, glöm inte att besöka deras hemsida: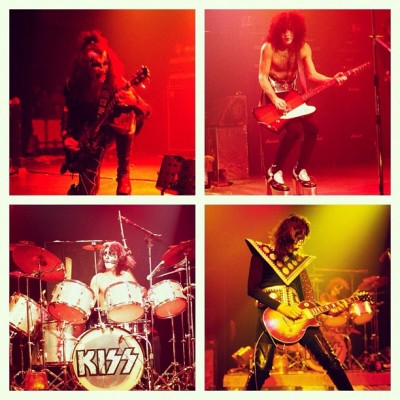 KISS IN 'SABOTAGE TOUR 75/76' BLACK SABBATH
Kiss for 1975 featuring an explosive show that united a spectacular theatricality and heavy metal thunder. But headlining bands were unsafe to go on stage after these rowdy concerts. As opening act KISS not getting much respect. The headlining tour and the staff always tried to harm them. They would not give much room on stage. They would give you lights and full sound. They would give almost anything.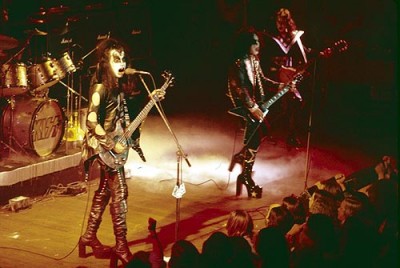 The KISS show was technically advanced for groups at that time. The bands felt intimidated by the sheer magnitude of what they were doing. While KISS was an opening act, gave literally explosive shows. What happened is that KISS crushed everyone on stage, and this caused them big problems. They had many problems as opening act for his show was much better and stronger. Glared people in places like Detroit and Cleveland, where they were large hard rock. The headliners often put restrictions on the band in terms of its stage: they were not allowed to use your full PA system, or would not let Gene spitting fire.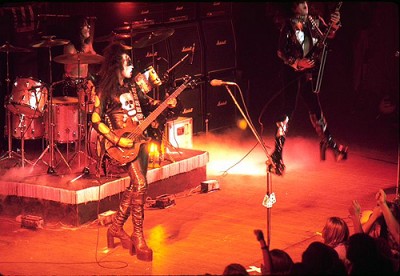 Black Sabbath were very pushy and mean with KISS, "You can not do this, and you can do that." They said, "You have forty minutes, not a second more, or cut off the lights and sound" and if we were moving, they did, remembered former Road Crew Mike McGurl Kiss. Most times we did. There were times with the public totally mad and asking encores. I had to sit down and negotiate with a tour manager and tell him that the crowd would go crazy if you do not let them back out on stage. Usually left the band to leave one or two encores. There were some strong bands give no bis.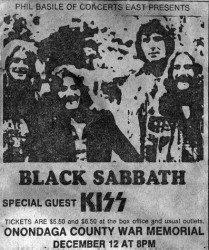 The British Black Sabbath were influenced by the music of Blue Cheer, Cream and Vanilla Fudge , the band were pioneers ( but creative ) Heavy metal. Black Sabbath was presenting ' Sabotage ' their sixth album in 1975. For ' Sabotage Tour 1975-1976 ' KISS opened a minimum of four concerts for Black Sabbath between August and December 1975. But for the Sabbath , KISS were a pain in the ass was creating problems and public removing them .
KISS had a confrontation in Providence, Rhode Island on August 8, 1975 with the Sabbath . Black Sabbath set up their stage and not left enough space for your battery lift platform or space for the band was front foot. They had room to pull back but did not want his team . Bill Aucoin were addressed to the KISS road crew , " not recede for us so we will not touch . Gather the team and stick it in the truck, get out of here . " So I put everything in the truck and when I was putting the lock on the back of the truck, Bill came out, gave everyone a ticket for $ 50 and said , 'Return to ride : they gave . " So they reassembled the team and played the concert.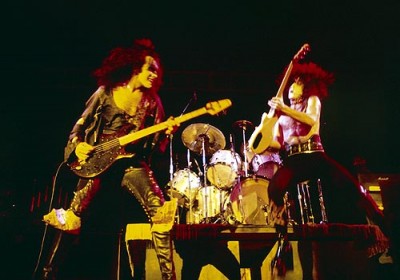 KISS had no problem with Black Sabbath, Sabbath had a problem with KISS. Every night they had only four feet of space stage and half a dozen lights. Sabbath did everything they could to reduce their environmental remembered the first road manager JR band Smalling .
Sean Delaney went to the window and told him that everyone was asking them for KISS. So back to the road manager of Black Sabbath and was furious. He had this intense look of Charlie Mason and said, "Look , 90 % of the people coming to the inquiry box office for KISS , not Black Sabbath. So we will use our special effects and we soundcheck . " They were about to come to blows with us. Needless to say , we do soundcheck and use all our special effects that night remembered the old road crew , Peter " Moose" Oreckinto .
Geezer Butler, bassist Sabbath, was out on the side of the stage and we were about to leave , recalls Gene Simmons. I wanted to approach him and greet him because I liked his style of bass playing. I slapped him on the shoulder and said jokingly , " Hey, Geezer , let joderos tonight."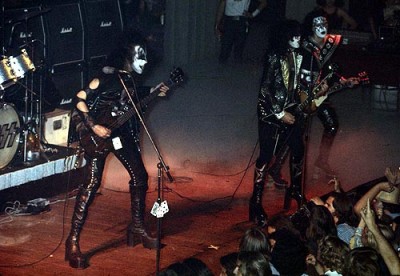 Half an hour after KISS left the stage, the crowd was chanting Black Sabbath , "KISS ! KISS ! KISS " . We cast tour recalls J. R. Smalling . Ozzy was man enough to come backstage shaking hands with everyone and say , " Dude, when a headliner can not keep your audience , the opening act should be a motherfucker. Guys, you are magnificent . "
I used to enjoy watching the opening bands at the time, bands like Alice Cooper and Yes they were unique in their own style, but nothing compared to KISS, Geezer Butler recalls . Sure, Arthur Brown had used fire on stage before , but only as a crown of flames, and Alice Cooper had used makeup and stage props . But KISS was unlike anything I had seen before , with their space clothes , makeup kabuki – type horror, and its bloody powerful explosions . I've never seen flames five feet on stage , not to mention anyone spitting fake blood and eating fire while playing bass. They left me completely stunned . I think it was the hardest group to which we had never had to follow.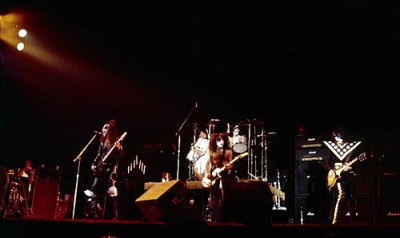 Gene Simmons recalls that years later, Ozzy said, "That's when I knew I had to leave the band, because anyone who is scared of opening act has not the heart of a lion."
Geezer Butler remembers seeing you at the hotel the day after a concert. Gene Simmons told me he was a fan of my playing the bass and told her I loved her performance. Then I taught a few Polaroids of his adult post-concert night activities and a chat.
KISS opened four shows of 'Sabotage Tour 1975-1976' of Black Sabbath between August and December 1975:
August 2, 1975, Baltimore, MD. Baltimore Civic Center
August 8, 1975, Providence, RI. Providence Civic Center – Brown Auditorium
August 14, 1975 Boston, MA. Orpheum Theater
December 12, 1975 Syracuse, NY. Onondaga County War Memorial
källa Kiss Army Spain