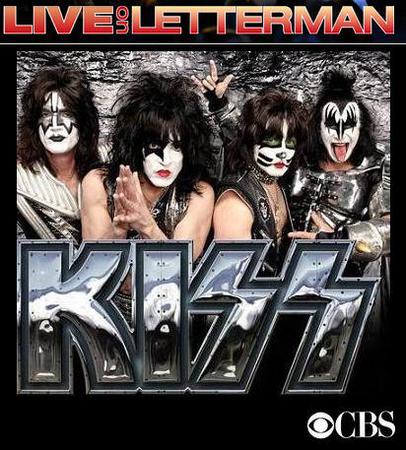 På onsdag i nästa veckan, dagen efter att man släppt Monster i USA så kommer KISS att uppträdda på David Lettermans Show i New York, precis som man gjorde när man släppte Sonic Boom. Så här skriver KISSonline om det:
LEGENDARY MULTI-PLATINUM GROUP KISS ROCKS THE 50TH "LIVE ON LETTERMAN" CONCERT WEBCAST, WEDNESDAY, OCT. 10, PRESENTED BY AT&T
Performance Follows the Release of Their New Album, MONSTER, on Oct. 9
KISS' Performance Will Be Streamed Live and Available On Demand on CBS.com and VEVO
To celebrate the 50th webcast of CBS Interactive's award-winning live webcast concert series, LIVE ON LETTERMAN, KISS will bring their spectacular, larger-than-life extravaganza of music to the world famous Ed Sullivan Theater in New York City.  The concert will be webcast live and available on CBS.com and VEVO, Wednesday, Oct. 10 (8:00 PM, ET/5:00 PM, PT).
KISS, in all their bombastic and unstoppable glory, will perform fan favorites from their treasure-trove of hits along with their recent worldwide #1 smash, "Hell or Hallelujah," from their new album, Monster, which is set to come out Oct. 9. Showing the band at the top of its game, Monster embodies all that is KISS and the music that first inspired them to pick up their guitars and flame-throwers and don makeup to entertain millions.
Having already broken box office records set by The Beatles and Elvis, KISS celebrates their 40th anniversary in 2013 with more than 28 U.S. gold albums, the most gold records for any American rock band, with 40 million sales in the U.S. and a total exceeding 100 million worldwide. Gene Simmons and Paul Stanley, with longtime members guitarist Tommy Thayer and drummer Eric Singer, return stronger than ever with their new album.
The LIVE ON LETTERMAN franchise, which has surpassed 130 million views to date on CBS.com and VEVO, marks its 50th webcast with KISS' performance.  Past performances have included some of the most established bands and musicians across the globe, from its first event which featured Pearl Jam, to Paul McCartney on the marquee of the Ed Sullivan Theater, Foo Fighters, Katy Perry, Coldplay, Adele and more, all staged in an intimate and dynamic setting for worldwide followers to enjoy.
Fans can watch KISS' webcast live or on-demand on CBS.com at http://www.cbs.com/shows/liveonletterman/.   Additionally, the show is available live and on-demand through CBS properties, broadcast on select CBS RADIO stations, viewable live on CBS's JumboTron in Times Square, as well as via a live audio stream on Radio.com's mobile applications.  The webcasts are also offered on VEVO, the world's leading all-premium music video and entertainment platform, through VEVO.com and its free mobile apps for iPhone, iPad and Android.  The on-demand performances areavailable across the entire VEVO platform, including VEVO.com, its mobile apps, mobile website, and syndication partners.
KISS' LIVE ON LETTERMAN webcast will precede their appearance on the LATE SHOW with DAVID LETTERMAN, which will be broadcast that same evening, Wednesday, Oct. 10 (11:35 PM-12:37 AM, ET/PT) on the CBS Television Network.