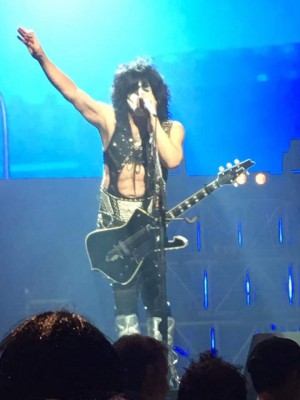 I natt runt klockan 3 svensk tid gick Kiss på scenen på Choctaw Grand Theater. Vi väntar fortfarande in rapporter från besökare tillsammans med fler bilder, men vad vi sett så verkar man ha använt Monsters-dräkterna. Setlistan såg ut som följande:
Detroit Rock City
Deuce
Psycho Circus
Creatures of the Night
I Love It Loud
War Machine
Flaming Youth
Dr. Love
Hell or Hallelujah
(…w/ending of "Let Me Know")
Guitar Solo
Lick It Up
Bass Solo
(Gene spits blood)
God of Thunder
(Gene flies up to lighting truss)
Cold Gin
Love Gun
(Paul flies out to 2nd stage)
Black Diamond
Encore:
Shout It Out Loud
I Was Made for Lovin' You
Rock and Roll All Nite
Vi återkommer under dagen med uppdaterad rapport!