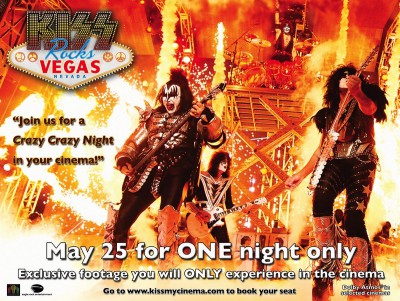 I veckan så annonserade KISS ut att den 25:e maj kommer en konsert-film från KISS i Las Vegas 2014 att visas på biografer runt om i världen. Om den visas någonstans i Sverige vet vi inte just i detta skedet.
EXCLUSIVE FOOTAGE YOU WILL ONLY EXPERIENCE IN THE CINEMA!
KISS Rocks Vegas, screening 25 May for ONE night only
In November 2014 a helicopter landed at the infamous Hard Rock Hotel as KISS invaded Las Vegas for an historic nine-show run. Now, for one night only on 25 May, fans will be able to experience this spectacular night for themselves as 'KISS Rocks Vegas' hits cinemas across the globe.
From this blistering live show, fans can expect sky high flames, ear-bursting volume and a few drops of blood! Includes exclusive footage you will only see in the cinema.
Don't miss this unique screening! Join with fans around the world, sing along to favourites like 'Rock & Roll All Night', get up and dance in your cinema! Feel like you are in Vegas!
TICKETS WILL BE ON SALE VERY SOON!