En artikel från kissarmyspain.com om KISS and AC / DC IN 'ALIVE II TOUR' 1977-1978 , artikeln är översatt till engelska via Google translator. Glöm inte att besöka kissarmyspain.com.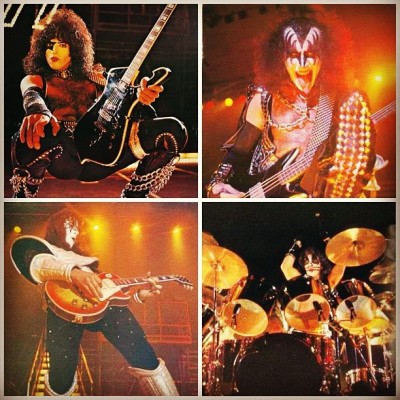 KISS and AC / DC IN 'ALIVE II TOUR' 1977-1978
Beginning 1977 and the rock world was not the same just two years ago. Led Zeppelin or Black Sabbath dissipating with American bands like KISS and Aerosmith occupying the place that the first dinosaurs were leaving and with the advent of the British punk, the appearance of a Judas Priest that lay ahead that something big was brewing in the heavy metal and the pop and AOR for all U.S. public, the rockers needed more than ever a group like AC / DC. They needed something frenetic, dirty and very direct, possibly to a brutal and aggressive volume, but the poverty of punk and hard rock talent.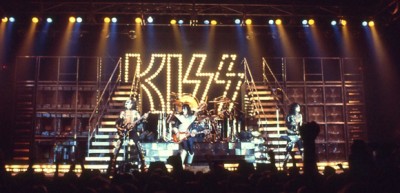 It was the time to get to Sunset Strip and play , of course, at the Whisky a Go Go. Van Halen were sounding increasingly shark and the place was Gene Simmons. He had done with Van Halen and was now in the hunt for the next big thing .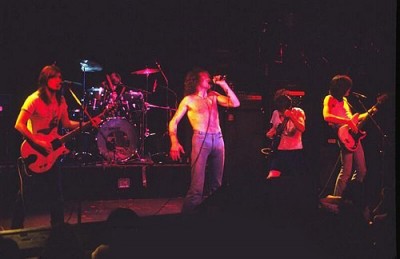 AC / DC opened for KISS on tour of Alive II. Simmons is a genius of finance and could not hit over clocking the opposite of the planet group KISS . In such a scenario, the AC / DC played as if it had ten square meters and the huge KISS Army hallucinating when Bon Angus climbed to the shoulders and got to dance between a dough used to see rock stars as untouchable deities . Deities who saw the group hired as openers were eating live .
Have them as support was a problem for everyone and those were stumbling across the continent , from Alice Cooper to other dinosaurs as Aerosmith , if anything worse off and being swept by the AC / DC, and Ted Nugent , who was by then self-destruct after the departure of Derek St. Holmes. Van Halen to the sweeping them feared . Nobody wanted to go after them. Foreigner did everything they could to check out .
They were spreading panic among the royalty of American rock and even appeared among the hundred most sold discs. Powerage Although they would eventually reach platinum status after, did not pass the # 133 on the Billboard , but by then it was already the most popular live band . Benefiting from the tens of thousands of people who went to see KISS or Aerosmith and waiting a few opening for stuffing.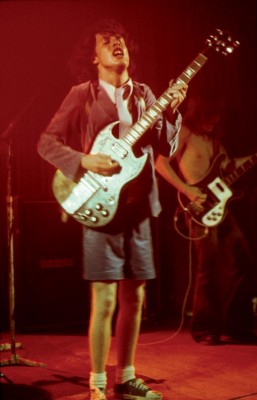 Angus Young: "Gene Simmons was very good to us when we came to America. He had gotten us a lot of shows with KISS. Today I am still grateful that he had done this. I remember when I came and saw us live the first time we played in Los Angeles at the Whiskey. He went to the backstage, approached us and said: Hey! I've been glued to the wall with your music. "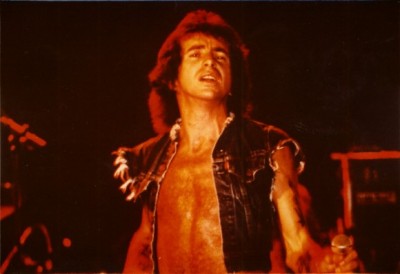 Bon Scott: "I saw KISS play live in London in May, are quite spectacular … They will be a huge contrast. KISS are very visual. Gene Simmons came to one of our last gigs at a club in Hollywood and take us on tour in America. A couple of weeks is that we will be opening for KISS and Rush, do about 12 dates with both bands. "
Susan Masino [Journalist and writer] were hired to perform three nights at the Whisky A-Go-Go, West Hollywood, from 29 to 31, 1977 That was his debut in California.. Gene Simmons is also where you saw them first before you propose to be opening for KISS in December.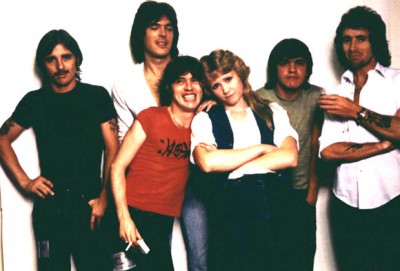 Angus Young: "We were on tour with Black Sabbath but conflicts with his bassist Geezer Butler, were expelled from the tour and Gene Simmons offered we join the KISS tour."
Angus Young: "In 1977/78 U.S. somehow were still a band of bar. That used to be a disadvantage. Critics trashed records AC / DC to be more of the same. Until Gene Simmons came to us. "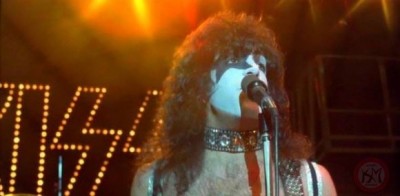 Paul Stanley: "Angus Young knew how to do things right, I have always excited when I hear a great song by AC / DC. A riff, and I know right away they are.If it sounds like a previous record, that's great! "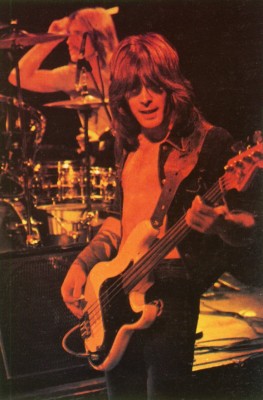 Angus Young: " KISS were sex, money, a bad joke – his image was sacred . They had so many good rock songs , went beyond the basics of rock . AC / DC offered another vision. In those concerts United States had no keyboards , no ballads. There was nothing like it as a KISS show .
Gene Simmons : "AC / DC is one of my favorite bands. It is the band that I'm most proud of having opened a show for KISS. It was an honor. "
Susan Masino [ Journalist and writer ] : "While AC / DC performing with KISS, my name came up in conversation. In fact it was not my name. I believe the exact words of Mr. Simmons were: < There is a crazy blonde journalist in Madison, Wisconsin. One day you have to know her ! >Barry Taylor [ Sound of AC / DC] said Gene died of laughter when he learned they knew me! That impulse to call Barry from Market Square Arena in Indiana, where they played as opening act for KISS. With the band thundering line, I try to ask Barry . < What the hell have you done to Gene Simmons > . Your question really epitomizes the world is an expression <number> pañuelo> . I told him it was a long story, but if you end up fleeing reveals that Gene Simmons becomes , that probably made Barry put me in an entirely new category . In fact, in the category of chaladas . Few women fleeing Gene Simmons at the time. It was probably dead tarantula encased in a plastic box used as a belt buckle (and put up my view), what got me fear in the body. "Great!"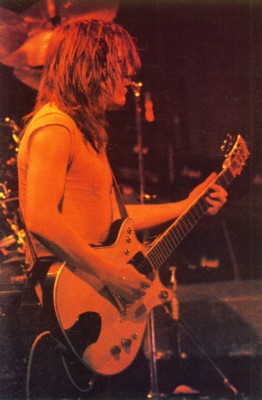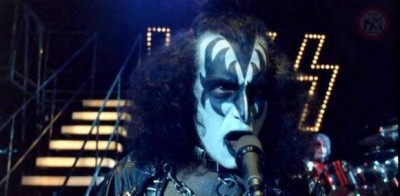 Gene Simmons: "I saw them play at a small club in London with Bon Scott and I will never forget. They were hungry, they had about 100 people watching them in the club, and the lights went out, and even during the blackout, Angus continued doing his dance moves, forward and backward. I thought, "Man, they really are good." So I approached Angus Young after a concert in Los Angeles and said, "Want to get something to eat?" And he said to me. "Clear, come on, man" Angus And when he smiled, I realized there was a hole in the front of your teeth. Literally. I took him to a place called Ben Frank, and he chewed with one side of your mouth. I thought "this poor guy has the heart of a lion." We told you once already seated at the table "I wanted to do a tour with KISS." His eyes widened "WHAT?". They thought they would be playing forever in these hell-holes. "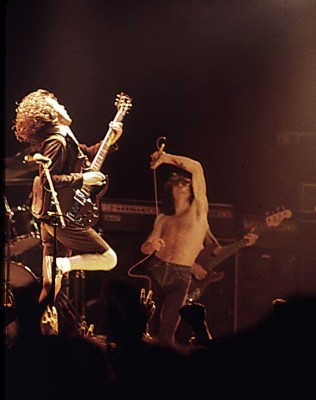 Angus Young: "We used the KISS tour in a van. Kiss had all the support, the press, a great show and all that. And there we were five immigrants, it was difficult even to enter the show with the van.Often we were not allowed to enter the enclosure that was mounted KISS because they saw us arrive in a limo! "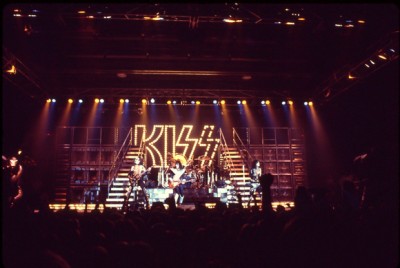 After the great performance of the AC / DC Australian started the KISS show. The lights went out and the roar of the audience exploded in a roar. Explosions soared eardrums broke on stage. Paul was swaying to the beat of "I Stole Your Love". In front of 16,000 fans of KISS stage, a huge fence and gates designed to keep fans controlled sections of the stage and separated them from the side.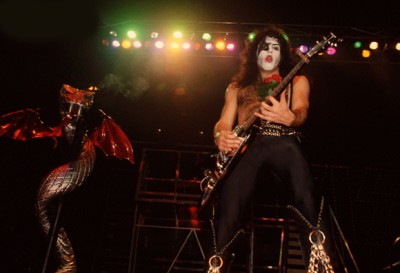 KISS had just released the album "Love Gun" and a wave of screams echoed from the crowd while thumping guitar chords thundered through the amplifiers. Paul and Ace were banging their guitars while the speakers began to rumble and melted by the high volume. Firing bursts of fire. The girls were throwing bras and panties on stage and the boys were delirious while Gene exhorted the fans against the wall of the stage. The black and white makeup on his face he was falling by the neck and drops of sweat flew in all directions as he walked along the edge of the stage.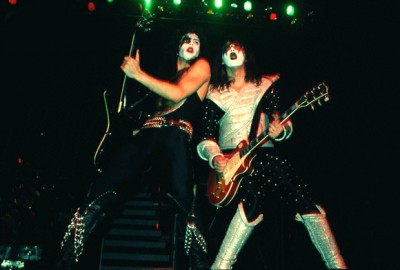 The fans had rushed from the back of the stadium to be so close to the stage as they could. In the first few rows were so packed like sardines, screaming and applauding as KISS and Paul had touched them busy with a talk they had to respond.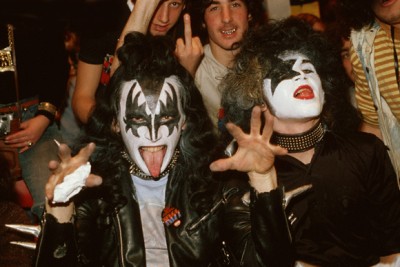 The fans had rushed from the back of the stadium to be so close to the stage as they could. In the first few rows were so packed like sardines, screaming and applauding as KISS and Paul had touched them busy with a talk they had to respond.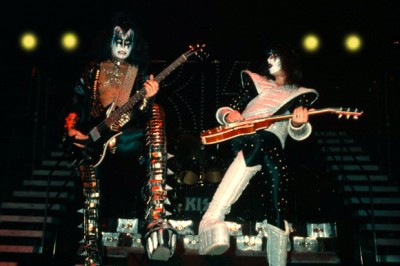 A thick cloud of white smoke the front of the pavilion swallowed. A shower of fireworks fell from the ceiling onto the stage. A hydraulic mechanism to Peter rose and its battery at least 6 feet high, revealing two huge tigers eyes shining. Unfolded from under the elevator and stood on stage, almost scraping the ceiling light structure. Platforms on the sides of the stage and climbed on Ace Gene almost 3 meters while moving toward the public.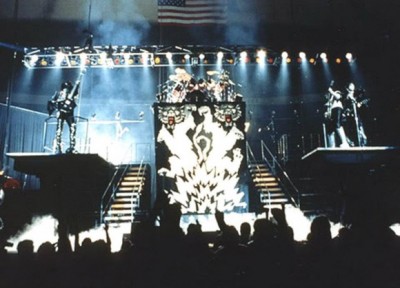 "Rock And Roll All Nite," the climactic conclusion of the show, was in full blast. Paul was strutting and shimmering, waving his guitar and hitting the ground making chips. Some of the pieces fell into the audience, where fans fought for them as a souvenir, jumping over each other to catch them.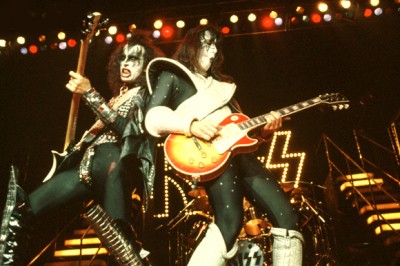 Across the stage, Gene was on top of its own platform, moving in unison with his bass guitar chords Ace on the strengths of the last song. Gene was dotted with stage blood that had dripped from his mouth during his previous ritual of vomiting blood in "God of Thunder." His hair was singed when the flames of their number to breathe fire seized him because one of the huge industrial fans placed on the stage.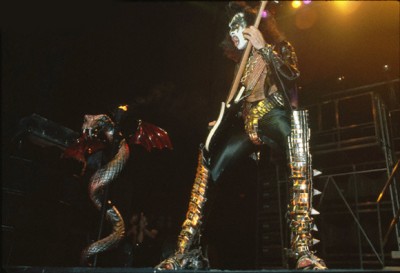 Ace was beginning to falter for the occasional shaking of the lifts as he struggled to maintain balance. The sharp clang of guitars buzzed monotonously and a storm of confetti swept the stage, landing on the front rows of the audience. A loud explosion on stage caused a hot flash that lasted the blink of an eye. The last bomb exploded sounding like a crunch, as concrete breaking into pieces by an iron hammer. The noise was an intensity that shook the stomach and was ending another tremendous show of KISS.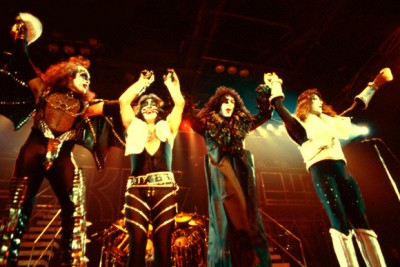 AC / DC concert opened five 'Alive II TOUR' KISS between December 1977 and January 1978 all but dried up:
9 de Diciembre 1977, Memphis, Tennessee, Mid- South Coliseum. Audiencia 11.493 "sold out"
11 de Diciembre 1977, Indianapolis, Indiana, Market Square Arena. Audiencia 19.000 "sold out"
12 de Diciembre 1977, Louisville, Kentucky, Freedom Hall. Audiencia 19.400 "sold out"
19 de Diciembre 1977, Landover (Washington, D.C), Maryland Capital Center. Audiencia 18.000 "sold out"
15 de Enero 1978, Chicago, Illinois, Chicago Stadium. Audiencia 16.700 "sold out"
* Susan Masino journalist and author of several books including "Let There Be Rock-The Story of AC / DC."
Article by Fernando Martínez | Kiss Army Spain
Vi tackar Kiss Army Spain!