Kiss kommer medverka i The Tonight Show med Jimmy Fallon, Cat Stevens och Nirvana medlemmar kommer också att medverka.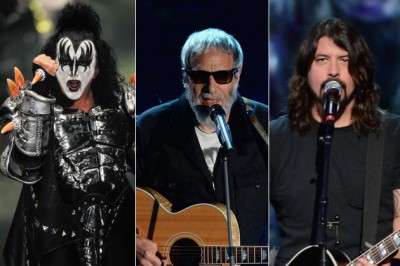 New Hall of Famers Cat Stevens, Kiss and Surviving Nirvana Members To Appear On 'Tonight Show'
'The Tonight Show Starring Jimmy Fallon' has a full slate of Rock and Roll Hall of Fame-related coolness on tap next week, just in time for the 2014 ceremonies on Thursday in Brooklyn.
Consequence of Sound reports that Yusuf Islam (formerly Cat Stevens) will perform on Tuesday. Surviving Nirvana members Dave Grohl and Krist Novoselic are scheduled for Wednesday, when the musical performer that night will be Stevie Nicks, who will induct new honoree Linda Ronstadt. Kiss will join Fallon on Friday.
Neither Ronstadt (because of health issues) nor Kiss (because of, well, it's a long story) will perform at the actual ceremonies. Nicks and Grohl have recently worked together, both in the studio and on stage, so there's a possibility of a collaborative moment for them. Islam will be performing with the Roots, Fallon's house band.
Nirvana, Islam, Ronstadt and Kiss are part of a 2014 induction class that also include Peter Gabriel, and Hall and Oates. The event will take place at Brooklyn's Barclays Center, with a broadcast to follow on HBO in May.