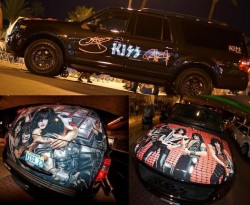 KISS LIMOUSINES TO BE THE FIRST "STAR" VEHICLES
Over the past 40 years, KISS has toured the world while breaking sales and attendance records regularly. The make-up, costumes, effects and choreography combined with the talent and music of the group have created an icon of the rock world.
KISS – the brand – has become one of the most desired instantly recognizable logos capable of leaping between generations with products, tribute musical groups and a well-earned reputation for philanthropy and patriotism.
Why then be surprised to learn the newest member of the KISS world has 4 wheels?
The Las Vegas based KISS LIMOUSINES is the brainchild of Donna & Will Tryon, veteran Vegas tourism leaders and huge KISS fans. Donna Tryon, President of KISS LIMOUSINES commented, "Las Vegas is the show, night club and rock capital of the country, the KISS Limo brand is a perfect fit for the music and party client that frequents Vegas. KISS and I are very excited about the launch of these signature cars. The exteriors are KISS themed with real KISS memorabilia inside the vehicles; along with KISS music playing, it's like riding in a KISS museum!"
On December 20th, 8pm at the Hard Rock Café located at 4475 Paradise Road in Las Vegas, the KISS LIMOUSINES will be the "ROCK STARS". You are invited to see, sit, touch & feel the new KISS Limos. Pictures & autographs are encouraged!
The cars will be staged out front while one of the hottest tribute bands in the land, Sin City KISS, performs a free concert for Sally Steele's Vegas Rocks Magazine's Tribute Night at the Hard Rock Café.
For all those KISS fans turning out to see these amazing limos and the band, we welcome you all and look forward to meeting you.
Sin City KISS is truly an experience! This "is" KISS; you won't believe it's not Gene and Paul, you are going to love this show!
The concert is FREE and seating is open at the Hard Rock Café, so come early for the best seats.
The new KISS LIMOUSINES are now available for bookings in Las Vegas and charters throughout Nevada, California and surrounding states!
KISS Limousines Reservations
702-385-KISS (5477)
http://kisslimousineslv.com/