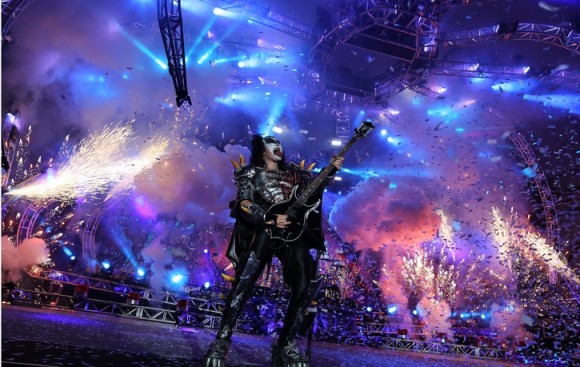 Review by Chris Vetter / Leader Telegram
Photo by Dean Snowden for KISSONLINE.
CADOTT – With a heavy dose of theatrics, KISS dazzled a large crowd Saturday night at Rock Fest in Cadott.
Right from when the band took the stage and launched into "Psycho Circus," the crowd was treated to fireworks, blazing flames shooting up from the stage, a drum set that climbed upward on hydraulics, and of course, a rock band in full costume. A giant, metallic spider hovered above the stage, creating a unique background.
KISS performed 18 songs over their 105-minute set, mixing in their signature spots along the way. For instance, Gene Simmons breathed fire, to the roaring approval of the crowd, before KISS launched into "Heaven's On Fire." Simmons later drooled blood down his chin and waved his tongue at the audience before the group sang "God of Thunder."
Paul Stanley taunted the crowd that they needed to be louder, before flying over the crowd on a zip-line to a smaller stage near the middle of the fest grounds.
The music selection was straightforward rock music.
"Are you here for a rock and roll party," Stanley asked the crowd early in the show before the band sang "I Love It Loud." KISS also unveiled some new songs, like "Hell or Hallelujah."
In a bit of a surprise, the band chose not leave the stage before their three-song finale. They kept the show rolling with the closing set of "Detroit Rock City," "I Was Made For Lovin' You," and the big hit, "Rock and Roll All Nite," which had all the spectacle concert-goers expected, with even more fireworks, flames, and a confetti cannon. On a cool and windy night, the tiny pieces of confetti reached fans all the way up the hill, standing far from the stage.
KISS previously played at Rock Fest in 2007. While Rock Fest officials never release daily attendance totals, this was one of the larger crowds in recent years. The temperatures were cool throughout the evening, and rain held off until after the show wrapped up.