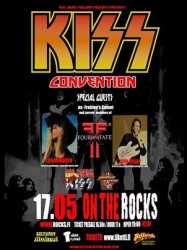 KISS Army Finland kommer att köra ett KISS Convention i Helsingfors den 17:e maj med bl.a. Tod Howarth & John Regan (Ex Frehley´s Comet medlemmar), fler gäster presenteras inom kort.
KISS ARMY FINLAND PROUDLY PRESENTS:
LOOK, IT'S ROCK N' ROLL!
KISS CONVENTION 2014, HELSINKI, FINLAND, Saturday 17th of May 2014
VENUE: ON THE ROCKS (Night club at the heart of Helsinki, see info  below)
SPECIAL GUESTS: TOD HOWARTH & JOHN REGAN (Frehley's Comet,  Four by Fate)
PAUL STANLEY BOOZING SOCIETY & GUESTS (plays Kiss)
FREHLEY'S VOMIT (plays Ace Frehley. Frehley's Vomit will perform  as a lineup for Tod & John)
THERE WILL BE MORE GUESTS! Stay tuned! We will make the  announcements ASAP. MORE COOL THINGS WILL BE COMIN' UP VERY SOON!
OTHER GUESTS & INTERESTS THUS FAR:
HELLSINKI ROCK SHOP (Kiss & hard rock merchandise), KELTAINEN  JÄÄNSÄRKIJÄ (Recor shop), T-SHIRTS by MAIL (Kiss & other  t-shirts), KAF (Kiss Army Finland / merchandise and more), MAKE-UP  artist Mss. SARI,  AND…more info & surprises comin' up soon.
What's the difference with EXPO and CONVENTION? Well, there really  isn't that much difference. What we'll have thus far includes: Q&A  session with Tod & John, photo-sessions, signing-sessions, live  music (Kiss, Ace Frehley) both acoustic & electric. Jesus, all  sorts of stuf!!!!
Tickets / Tiketti (= official ticket service:      From the door:
K-18 ( = people under 18 years cannot joint the event because of  the laws)
VENUE: On the Rocks / www.rocks.fi / Address: Mikonkatu 15 / Helsinki (at the heart of the city, near  railway station)
Open: 19.00 – 02.00
OOPS, THEY DID IT AGAIN! ROCKIN' OUT WITH KISS ARMY FINLAND IS  ALWAYS FUN AND ENTERTAINING. "I STILL SAY THEY STINK" (a comment  by random fan).
Four by Fate: facebook.com/fourbyfate
Kiss Army Finland / Helsinki 2014 Kiss Convention will be found at  internet, facebook, www.kissarmyfinland.com
MORE info is comin' up really soon! Breath & brush your teeth!