En artikel om Coachella Valley Music Festival av Daily Bulletin: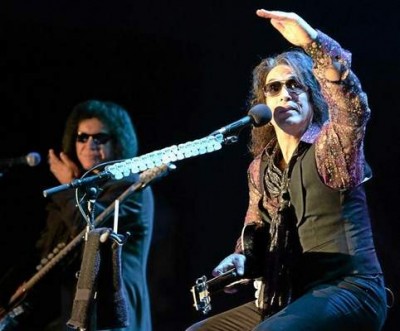 Thoughts on Kiss and Coachella Valley Music Festival
Interviewing Kiss at the San Manuel Indian Bingo and Casino near Highland was an intimidating experience.
Why? Because I was the one who felt like I was being interviewed.
After an email granting permission to interview Kiss founders Paul Stanley and Gene Simmons, I waited at the casino for Kiss founders Paul Stanley and Gene Simmons to meet us in the center of the casino next to the Kiss slot machine.
When vocalist and rhythm guitarist Stanley and vocalist and bassist Simmons arrived, roughly 30 minutes later, they walked past us (with their signature black clothing and dark sunglasses on) and stood in front of the slot machine. Casino officials roped off a small area in front of the slot machine to block off fans and we were told to walk underneath the barrier — and just like that we were were standing in front of the founders of Kiss. Wow.
I faced Simmons and was told to start asking questions. This sounds easy until you realize we were surrounded by screaming and yelling Kiss fans, photographers snapping photos and an L.A. Kiss (this is the Arena Football League team Stanley and Simmons co-own) film crew filming our every move.
It was nerve wracking to say the least.
We were also warned before the interview to not to ask about the Rock and Roll Hall of Fame as we were told Stanley and Simmons might walk out on the interview. In case you haven't already heard, but the group said they would not perform at the Rock and Roll Hall of Fame ceremony because only the original four members of Kiss (which includes lead guitarist and vocalist Ace Frehley and drummer Peter Criss) would be inducted but not every member including the band's current lineup. Kiss' current lineup consists of Stanley, Simmons, lead guitarist Tommy Thayer and drummer Eric Singer.
After asking some introductory questions about the L.A. Kiss team the rock stars were there to promote, which seemed to take up 10 minutes, Simmons asked if "that was all" in my direction while staring at me with his dark glasses.
I knew this was the big moment. I said, "No, that's not all."
And then I simply said: "Rock and Roll Hall of Fame?"
I feared Simmons would walk out on me. But to my surprise, they did not.
Simmons answered the questions basically saying they would go but not perform.
Whew. Crisis averted.
Later I was able to review the show (the band's voices are not very good at this stage in their 40-year plus career, but if you're a Kiss fan, you know that) and it was memorable for what it was, a concert without all the flashy face paint and the group playing mostly acoustically with some storytelling along the way.
Fast forward to April 11-13, I went further east for the first weekend of the Coachella Valley Music & Arts Festival in Indio.
Contrary to some reports, there were lots of fans who really seemed excited about all the sets. When OutKast, the Replacements, Queens of the Stone Age, Pharrell Williams and others started off, thousands of people looked happy, were cheering and verbally talking about what songs they wanted to hear.
However, fans started leaving at various points in their set, and I'm not sure if it had to do with the quality of music or the attention span of the younger crowd.
For OutKast, they brought out guests that slowed the flow of the entire set, while the Replacements never had a large crowd to begin with. Fans left Queens of the Stone Age after its 2005 hit "Little Sister" despite the group being the hometown band from nearby Palm Desert.
During Williams' set, fans behind me kept chanting for guest artists such as Jay Z (who didn't appear) or talking through the portion of the set where there were no guests.
Meanwhile, to me it makes sense the electronic DJ's would get bigger crowds because they can tailor their music to crowds who aren't into their songs within seconds to try something else or fans who just want to dance. A band or hip-hop group has to keep going until the end of the song (but it's easier for a hip-hop group to end a poorly received song than it is a band, admittedly).