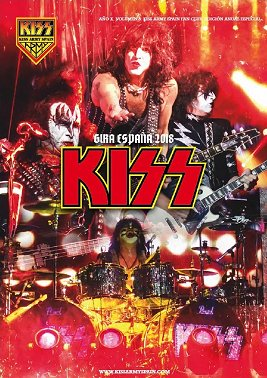 KISS Army Spain släpper en ny bok om sommarens turné i Spanien.
Kiss, Gira España 2018", is an A4 size book with 112 pages and with the usual quality standard of our releases. This new book has been created with the target to give the fans the most accurate memory of what was the activity of KISS during the time they spent in Spain from 7thto 14thJuly, 2018.
"Kiss, Gira España 2018" is essentially a photographic book with more than 300 color high-quality exclusive picturesthat features six big chapters sorted by chronological order: KISS show at the Rock Fest on July 7th, KISS show in Madrid on July 8th, Kiss Army Spain event with Eric Singer & Tommy Thayer at the Hard Rock Café on July 8th, The Gene Simmons Vault Experience on July 9th, KISS show in Córdoba on July 12thand KISS show at the Resurrection Fest on July 14th.
On "Kiss, Gira España 2018", besides the astonishing photo report, you will find everything related with this historic tour that led KISS to play in four Spanish cities. The posters, tour T-shirts, guitar picks, meet & greet and All Access passes, newspaper reviews, etc…
Besides "Kiss, Gira España 2018" has the incentive that on the event with Eric Singer & Tommy Thayer it features the pictures of all the fans with Eric & Tommy which will make of this book a very special and personal memory for all of those who attended to the party.
The book includes a free A3 size full-color poster featuring an exclusive picture of Gene Simmons from the past Spanish tour.
The price per book is 20 € + shipping cost by registered mail.
POSTAGE:
Spain: 7,70 €
Europe: 16,55 €
Rest of the world: 24,85 €
If you want to buy more than one (1) copy of the book, please ask before for the shipping cost.
Payment methods are by transference to the following bank account number:
IBAN: ES63 0049 5030 13 2716741066
Or you can send payment by PayPal to: kissalex1973@gmail.com
IMPORTANT: Use the option"Send money to family/friends"when you send payment by PayPal. Otherwise add 5%.
Once you have sent payment by any of the two before mentioned ways, send e-mail to: alex@kissarmyspain.com with your full name and shipping address and the amount of books paid.
We will start shipping the books in November