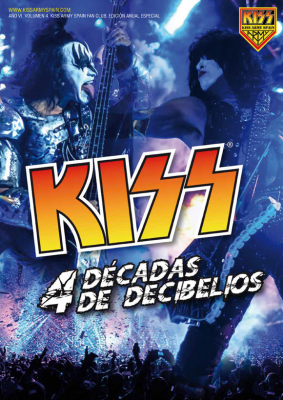 New KISS Army Spain fan club package IV. Book "4 Decades of Decibels" + new membership card + DVD
We're back on full power with our fourth package of KISS ARMY SPAIN FAN CLUB: new membership card, new book A4 size with 96 full-colour pages, countless articles, unseen photos of the Unmasked, Crazy Nights, Hot In The Shade and Revenge tours… and with the usual quality, plus a pro-shot DVD in high quality featuring the shows of the Party V Anniversary of KISS Army spain in Pamplona with Bruce Kulick, John Corabi and Chuck Garric.
This book revises historical snapshots and events of one of the biggest bands of the rock history. In chronological order: starting with their debut album "KISS" when they were beginning as a band, then going to amazing LPs such as "Hotter Than Hell" and "Dressed To Kill" and revising perhaps for the first time, the tour from the seventies which they were opening for Black Sabbath. We also cover for the first time everything related with the tours which big bands nowadays such as AC/DC, Judas Priest or Iron Maiden were at the time the openers on the big KISS tours in USA and Europe. It is very interesting the info we tell about their musical career with the records "Crazy Nights", "Hot In The Shade", "Revenge" and "Carnival Of Souls".
KISS history, besides been written, it has been shot for the posterity. There is very little left to say about the recent KISS years spanning a very long career. The rock of KISS has turned many of their albums into the best records and songs that have ever been recorded and written in rock history. They went beyond the limits of the essentially musical to turn into a teenage social phenomenon with sound roots deep into hard rock and glam, awesome shows full of pyro and an attractive look with comic-book influence.
There are a lot of new fans of the band who thanks to this new book will have a big idea of the KISS history, and as for the old fans we assure you will find out many things you could not even think of, and that will make you keep this book as a must have.
We have spent a lot of time and effort and many sleep hours to manage and release this book which from right away will turn into a new jewel in your collection.
Fully pictured with hundreds of rare photos, the end result is an permanent e irresistible snapshot of the band's rise and the music scene they changed forever.
The price of this great fourth KISS ARMY SPAIN FAN CLUB PACKAGE IV is 35 € included registered mail within Spain, and it will include a very cool membership card with new design and an amazing DVD.
PAYMENTS OF THE NEW MEMBERSHIP PACK OF KISS ARMY SPAIN:
.- For orders from Europe, the cost will be 28 euros plus 12 euros for postage + Paypal commission (2,35 euros) per transaction
(total 46,35 euros). If you order more than one copy, please consult on web@kissarmyspain.es. Payment must be done to
mamenyjavier@telefonica.net
JOIN THE BIGGEST ARMY IN THE PLANET!
THE ONLY WEBSITE AND FAN CLUB AUTHORIZED BY KISS IN SPAIN
http://kissarmyspain.com/2015/05/%C2%A1unete-a-kiss-army-spain-nuevo-pack-de-socio-2015/