Några bilder och videos från den akustiska spelningen här om dagen, bara att njuta.
Setlist:
Comin' Home
Calling Dr. Love
Hard Luck Woman
Christine Sixteen
Hide Your Heart
Goin' Blind
Cold Gin
Do You Love Me
Nothin' to Lose
Love Her All I Can
A World Without Heroes
Plaster Caster
Take Me
See You Tonite (Gene Simmons song)
Rock Bottom
You Shook Me (Led Zeppelin cover)
Led Zeppelin Medley
Mississippi Queen (Mountain cover)
Got to Choose
Shout It Out Loud
Rock and Roll All Nite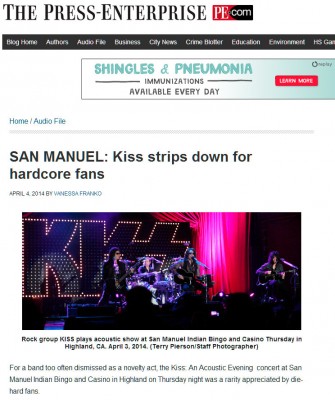 SAN MANUEL
Kiss strips down for hardcore fans
For a band too often dismissed as a novelty act, the Kiss: An Acoustic Evening concert at San Manuel Indian Bingo and Casino in Highland on Thursday night was a rarity appreciated by die-hard fans.
Even from the stage, singer and guitarist Paul Stanley mused repeatedly that he didn't know if the band would ever do a show like it again.
The first time the band went acoustic was for MTV Unplugged nearly 20 years ago. In the time since, the band has brought out the acoustic instruments for the rare special events such as the annual Kiss Kruise.
Making the night even more of a novelty were the cameras following the band around for a reality show about the LA Kiss arena football team, which is owned in part by Stanley and bassist Gene Simmons. The band's first home game at the Honda Center in Anaheim is Saturday, April 5.
[embedplusvideo height="315″ width="560″ editlink="http://bit.ly/1fKUav3″ standard="http://www.youtube.com/v/0AOssm88gLM?fs=1″ vars="ytid=0AOssm88gLM&width=560&height=315&start=&stop=&rs=w&hd=0&autoplay=0&react=0&chapters=&notes=" id="ep8155″ /]