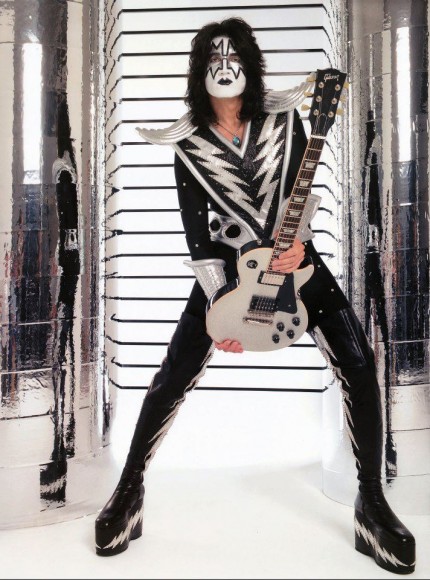 Intervju med Tommy Thayer från www.metalforcesmagazine.com:
KISS – Outta This World
Anthony Morgan, January 2013
A member of American hard rock outfit Kiss since March 2002, lead guitarist 'Spaceman' Tommy Thayer has favoured the use of Les Paul Standards for the most part, the majority of which have been reissues crafted by the Gibson Custom Shop. A 2006 decision would plant the seeds for the January 2013-released Tommy Thayer 'Spaceman' Les Paul Standard Outfit, an Epiphone creation limited to a 1,000 replicas.
"In 2006 I decided I wanted to mix it up and have them try something else with a different aesthetic, a different top on it rather than a Sunburst," Tommy remembers. "I thought doing a silver sparkle top would be great for a Les Paul, and would be great onstage with Kiss obviously. I thought it would look great with the outfits and the stage show we do and everything, and the lighting (laughs). I asked them to make one in the actual Gibson Custom Shop.
"We were doing a show in Las Vegas (Nevada) called VH1 Rock Honors (May 25th), which was a special commemoration to Kiss. I was excited to get the guitar, because I thought 'Oh great. I'm gonna play this guitar onstage, and debut it on this VH1 Rock Honors show.' This was in 2006. The silver top guitar from Gibson showed up at the hotel. I was excited to see it because I wanted to play it that night, but I opened it up and said 'Well, that's odd. This thing looks really weird, actually.' I wasn't happy because they made it with the silver sparkle top, but the sides and the back of the guitar were just mahogany wood like a gold top. It was strange, so I immediately called them up and said 'You know what we should do? We should make the sides and the back of the neck black. With the silver sparkle top, that would look fantastic.' I sent it back. They took a couple of weeks, redid it, I got the guitar back, and that was it. It was really what I wanted then.
"I've had that guitar for six years now and played it a lot onstage with Kiss, particularly in my guitar solo – it's been featured in parts of the show like that. A year or two ago I contacted Epiphone, which is really a part of Gibson, the same company. I met and talked to Jim Rosenberg the president, and told him I would love to do a Tommy Thayer limited edition Les Paul signature guitar. He loved the idea. The reason I went to Epiphone and not Gibson is because I wanted to make a signature guitar that was high quality, had great playability, was well made, had great performance, but was also something that was completely affordable for everyone. That's why we've done an Epiphone, and that was my preference from the beginning.
"Jim and I just deal directly with each other; we don't have any intermediaries. We just talk on the phone, and email. I just sent him the exact specs for that original silver sparkle top that the Custom Shop had done for me in '06. Jim made the point that it was important we replicated the guitar exactly right down to the detail of the same tuners, the exact same pickups, the same parts, bridge, all the details being exactly the same as the original guitar. He said that fans really scrutinise that, and want replica guitars exactly like the originals. That's what we did; we made an exact replica of the original one, and it turned out great. We actually ended up using Gibson 498 pick-ups, Grover Deluxe tuners, all the exact same parts.