En kort intervju med Paul Stanley innan spelningen i San Juan:
Paul Stanley – San Juan

Hart Baur

You want a guaranteed good time on St. Patrick's Day? KISS is bringing its special brand of entertainment to Hard Rock Live for a show that will (sham) rock like no other. Known for blood-spewing, pyrotechnic-happy shows, the boys – including original members Gene Simmons and Paul Stanley – promise to bring it. We spoke with 59-year-old Stanley, whose wife is expecting a girl in August.

Why did you decide to do only three shows, one in South Florida?

We are really not on tour. We had a few shows booked quite awhile ago, and rather than cancel them we decided to get out there and do a few. It is what we love doing, and we are in pre-production on the next album, and so it only makes us want to go out and play that much more.

How much rehearsal do you do?

We are certainly professional enough to go out and do it, but there is a difference between being about to do it and do it best. We rehearse not because we don't know the songs but to shake out the rust.

Can you explain the power of the makeup?

There is no denying that not much can compete with those four iconic characters, as good looking as I may be. They are – and we are – the embodiment of superheroes, athletes, rock stars. It is so multi layered. Once we put the makeup back on, we were very clear that we would never take it off again. It is who we are and what we worked our butts off to be. To dilute it or change it wouldn't be fair to the fans.

When did you know KISS had made it?

I remember being on stage at Hara Arena in Dayton, Ohio, around the time of KISS Alive! [1975]. The curtain was closed, and I was looking out seeing the place packed. It suddenly hit me that it really was happening, being on the verge of the precipice of this huge domination of the rock world. It was great and yet it was very overwhelming, intimidating and humbling. It was scary as it was suddenly out of your control. It had gained a momentum of its own. And all you can do at this point is hold on as the ride is about to begin.

Did you have any idea in 1975 that you would be playing in 2011?

I couldn't have dreamed it. The truth is I was hoping for five good years and that would have been incredible. Nobody had gone that much longer than that. It's really about doing what you love doing and having that being contagious and tapping it what other people love and celebrating. It becomes the common thread between you and your audience that you can maintain.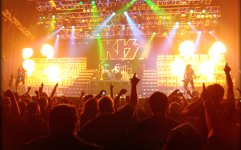 Fler bilder från spelningen i San Juan hittar ni här:
www.werockpr.com