Tim McPhate (KISSFAQ.COM) genomförde en intervju med Vinnie Vincent Invasions trummis Bobby Rock där de pratade om Vinnie.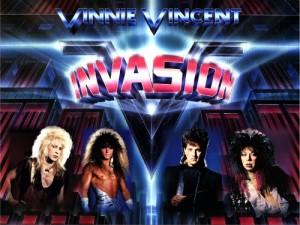 Vinnie Vincent Invasion – Boyz are gonna rock
KissFAQ: Bobby, thank you for taking the time to speak with KissFAQ.com. It's hard to believe it's been nearly a quarter century since the launch of the Vinnie Vincent Invasion. Right off the bat, let's start with your Vinnie Vincent Invasion beginnings — when and how did you initially hear about the gig?
Bobby Rock: I was touring throughout the South and Midwest in a club band called Diamond Romeo, and heard that another band on the circuit — Sweet Savage — was being produced by Dana Strum, who was working with Vinnie. Somehow, I heard that the drummer chair was open, and it was actually Joey C. Jones, the singer of Sweet Savage, who turned me on to Strum's phone number.
KF: There is a documented story that you called Dana Strum from Texas and said, "I'm your guy, the killer you've been looking for," and that you proceeded to drive all the way from Texas to Los Angeles to audition and knew the gig was going to be yours. True tale?
BR: Pretty much, except that it took about six weeks from that first conversation I had with Strum until the auditions were actually set up. But yeah, I left Strum a pretty bold and brash message on his answering machine about how perfect I was for the gig, and how I would blow away anyone else they brought in, etc. Of course, I found out later that he and Vinnie joked about it, saying something about how it would be funny to have "that kid drive all the way out from Texas for an audition that he surely won't pass." But I had a feeling about that gig. In fact, I remember filling my van up with gas somewhere in Arizona, en route to the audition, and some stranger — who obviously assumed I was a musician by my appearance — asked who I played for. I said, "Vinnie Vincent." And this was about two days before I even met the guy!
KF: Can you tell us what you remember about your Invasion audition? According to a 1987 interview, Vinnie said you played for an hour and a half, and after your performance declared, "You are the one." Is this how things transpired and do you recall what you played?
BR: That's a fact. It was supposed to be a quick screening audition where Vinnie, Dana and Robert would just hear a bunch of guys come in and play for five or 10 minutes, by themselves. They didn't even have their guitars around or anything. So I start playing and doing different shit, and they just really got engaged with the process. It soon turned into a mini-drum clinic of sorts, with me demonstrating a lot of the crazy Latin-style, four-way independence stuff I do, and a lot of the heavy drum solo, chopsy stuff, as well as the obligatory rock grooves and double-bass madness. They loved it, and even tried to stump me with different requests and variations of what I would play.
But man, it was just one of those destined occasions in life where I could do no wrong. They basically hired me on the spot, even though there were a couple more guys waiting outside the rehearsal room for their shot. I remember Robert saying, "Unless some guy walks in here with three arms, you've got the gig!" I'll never forget that day.
KF: What were your first impressions of Vinnie? And what were your first impressions of the songs you heard?
BR: Vinnie was super
cool…very friendly and laid back. But I didn't hear ANY music until a few days later, once Strum hooked me up with a cassette. I heard the original demos of "Boyz Are Gonna Rock," "Shoot U Full of Love" and "No Substitute," and, of course, I freaked. I thought those tracks were off the fucking hook.
Resten utav intervjun hittas på KISSFAQ.COM