Intervju med Alan G. Parker inför den kommande dokumentären om kiss, av L4LM: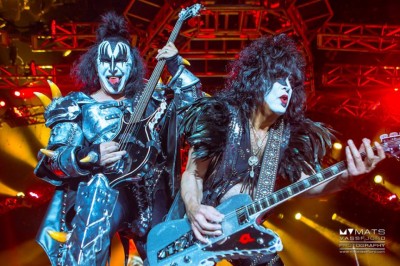 L4LM EXCLUSIVE INTERVIEW: ALAN G. PARKER – DIRECTOR OF UPCOMING KISS DOCUMENTARY
Live for Live Music was fortunate enough to get an exclusive interview with filmmaker Alan G. Parker, who is currently working on the official KISS documentary, which is set for release in theaters in 2014. We discuss everything from the film, working with Gene Simmons, Paul Stanley, Lydia Criss, and the entire KISS crew, and the difficulties of pleasing everyone involved, to his obvious admiration and fan status for the band and what it is like to be a member of the Kiss Army directing the official documentary on them.
-Bob Wilson
KISS has an official documentary being filmed now, to be released in theaters in 2014 from Universal Studios. Lydia Criss, Richie Fontana, and director Alan G. Parker talked to Live For Live Music music with some insider info for the faithful in the Kiss Army. Lydia is the former wife of Kiss drummer Peter Criss, and is a Kiss historian and archivist, as seen in her book SEALED WITH A KISS. Richie Fontana is her longtime flame, and drummed on the first four tracks of Paul Stanley's 1978 solo album.
Parker is the chosen director for the new Kiss project entitled YOU WANTED THE BEST…YOU GOT THE BEST (coming in 2014). His past films include HELLO QUO! (2013), NEVER MIND THE SEX PISTOLS, WHO KILLED NANCY (2010), MONTY PYTHON: ALMOST THE TRUTH (2009) and REBEL TRUCE: THE STORY OF THE CLASH (2007). Lydia Criss said that she was on "Gene's wish list" (no, not that wish list!), of subjects to be interviewed for the film. She was first "approached via email", but she was not immediately certain that the project was for her. At first she "hemmed and hawed", but then she came around, deciding to participate.
Then, about two months later, Parker came to film her in her apartment with a "six person crew." Parker is described by Lydia as being a "big Kiss fan", and as making her feel at ease during "a three hour interview." Lydia joked that perhaps she was desirable for the project because she "was there", as they say. As well as being one of those who were on the scene who "still have their memory intact." Lydia's longtime beau Richie Fontana remarked that the group of ex-wives and musician friends comprise "a family." With the Billy Squier-led band Piper, Fontana "opened for Kiss at the groups Madison Square Garden shows on the band's LOVE GUN TOUR" in 1977. Both bands were managed by the Bill Aucoin Firm, so they knew of one another. In fact, when Peter Criss left Kiss, Fontana was considered as his replacement. "My name came up in discussions, but Kiss had not 'unmasked' yet." Had Fontana not been in publications such as CIRCUS MAGAZINE in photos with his band PIPER, he may have joined Kiss instead of Eric Carr in 1980. The Kiss mystique required someone that the public had not seen without makeup before.
For the Madison Square Garden shows, Fontana recalls a "giant bottle of Tanqueray and fruit" arriving to celebrate his birthday on December 17th, and a limousine arriving to drive him to the shows. Today, Lydia meets fans at Kiss conventions, and signs copies of her book and photos for avid fans. One such convention was held recently in Helsinki, Finland, with the band also in town for a show on June 3rd, 2013. Lydia attended, and remarked that this was her "first Kiss show since the Psycho Circus Tour which featured all four original Kiss members onstage through parts of 1998 and 1999. She was given "ground level seats, but we didn't want to (stay) there." So she "switched seats" with some appreciative fans, and she watched the show from the perch from which the professional rock photographer took the shots depicting the band's Helsinki show (see photos). "Paul Stanley designed most of the stage, and lighting", and she remarked it was the most impressive such design she had seen since her lens focused on the band Queen.
Last week, Lydia said Kiss (with new members Eric Singer and Tommy Thayer) were running around Manhattan and Brooklyn. Simmons and Stanley were said to be in full makeup, but wearing suits (which brings to mind the band's classic 1975 DRESSED TO KILL album cover). Lydia said she did not see the performance, but the group apparently played in New York's Greenwich Village. Lydia went on to say that we can look forward to the likes of Jimmy Page, David Coverdale, and Marvel Comics icon Stan Lee to also be interviewed in the forthcoming film.
L4LM: You have been reported as a KISS fan, as well as a rock documentarian. -Do the two lines cross, and if so how do you deal with that?
Alan: This one is a big one, capitol B, it's the one I wanted to make from as far back as I remember… I first joined the KISS ARMY when I was 14! So that's 34 years of commitment in any language… Am I a fan? Yes, a totally rabid one with a collection that grows almost every week!! But, am I clever enough to step back and look at the whole story rather than my favorite bits?… Yes of course, I have to be that too, understanding the format of good documentary is the only way we made Python, Quo or Nancy work… You just have to remove yourself from the subject matter enough to see it through new eyes…
L4LM: What has the band asked you to produce (what point of view)?
Alan: The idea is to produce a long form cinematic documentary, somewhere in the area of two hours plus, which travels a time line from Wicked Lester, or if you like Paul & Gene actually first meeting, right up to present day with 'Monster' and, of course, The Spider Tour… And everything that fills the gaps for those 40 years in-between… Of course being KISS there is no shortage of the 'everything' we need to fill those gaps!
L4LM: How will the points of view of Ace and Peter be covered?
Alan: At first, being the fan, I was more than happy for both Ace & Peter to be in the movie, as indeed were the group and it's management, but then to some degree the none-sense began, he wants this… He said that… I'm taking my ball home so no one can play! We made everything so easy for them to be involved, and like so many times before they made everything difficult about being involved… In the end, we decided to give them their say, and they will be in the movie… But via archive… Life is too short for that kind of stuff… But remember this, the door was always 100% open for both of them…
L4LM: Lydia Criss mentioned that she was on Gene's "wish list"? Anyone else on that list you can tell us about?
Alan: Before we shot a second of interview footage, the group gave us a wish list of people they would like to take part… It was a long list too… Including people from behind the scenes and a number of famous rock stars… Every effort was made to contact all the people on that list… Lydia would always have been on my list because I loved her book, but I wasn't sure what everyone else thought about me speaking with ex-wives! But, all fairness to Gene, from the day I first mentioned her name he was very much "Sure, she must be in it!"…
L4LM: What areas did you delve into with Lydia Criss, if you can tease us with a bit of what to look forward to?
Alan: All kinds of everything. Her memory for a story is incredible… She tells it very much like it is/was too… I'm not one for teasing at this stage, I've no idea what will make the cut… We still have a long way to go yet… But just lets say nobody is going to be disappointed by her… Or any of her stories…
L4LM: Any exciting concert footage, and maybe a soundtrack for us to look forward to?
Alan: Oh boy, we have mountains of footage covering all areas of the groups existence… I have a huge bootleg collection too! So I will be doing a lot of digging before I do any gardening!! As with the previous documentaries that we have made, I'll make sure there is footage included for die-hard fans and a few things for those people who truly just need to know the story… The 'casual punter' as we call them… With regard to a soundtrack, at this stage I just don't know…
L4LM: As a "fan" myself, I wondered about the Dynasty-era, which seems to have been the when the seams came loose, leading to Ace and Peter eventually leaving. Will you cover that? Anything you can expound upon here?
Alan: We've got to cover the 'Dynasty' period… That would be like making a documentary on Slipknot and not mentioning the masks?? It was the fall of the Roman Empire… Big hit single and no-one actually speaking to each other?? The solo albums, the TV movie, everything should have been perfect for the group… Then you watch The Today Show and realize just how much tension is going down… Don't worry, that area of the story is safe…
L4LM: Gene is a complex character. I was always deeply moved by his family history at the hands of the Nazis in WWII. Will you get into that at all?. -Those experiences seem to have affected his worldview immensely. The story seems to have been influenced by that, in that it affected Gene so deeply.
Alan: It is going to be touched upon in the lead up to their story and indeed how they develop as people… Chalk and Cheese, yet both working for the same aim… They truly are brothers from two mothers… And we do have Gene talking about his beginnings and family…
L4LM: The THREETLES played together a bit at the end of ANTHOLOGY. -Any chance the original KISS members may give fans a new song or a jam together?
Alan: I wouldn't have thought so… And for this movie I'd find it hard to see why… 'The Threetles' was born out of an old Lennon demo and the want to do something new with it… Remember Ace & Peter barely play on 'Psycho Circus' which was the last attempt at anything like that…
L4LM: Was Vinnie Vincent involved in this film? Can you talk about that a bit (either way)?
Alan: Vinnie wont be in the movie outside archive, that was a decision made by everyone very early on… To be honest, I don't see a need for him to take part, that's just my personal opinion… There are many reason why it just doesn't work…
L4LM: The Eric Carr era brought us a wonderful, fan friendly drummer. Will you cover him in the film?
Alan: Speaking as a fan rather than a Director for a moment Eric was one of the best, and a big part of KISSTORY… We have been in contact with his family from the minute we got this thing green lit… Eric will be a big part of the movie, his personal story is already covered by a good number of our interviewees… Everybody, all 10 members of KISS, will appear on screen in order to tell the story… Just that in some cases it will come from archive, at times un-seen archive… So there is a lot to look forward too… And as with all our previous movies we don't skimp on extras either…
L4LM: Is this along the lines of your work on STATUS QUO, THE SEX PISTOLS, or THE CLASH? How has this experience been different so far?
Alan: I think of those three it's going to be closer to Quo than any of the others… Although it is already taking on a shape of it's very own… I've learnt a lot about film making since we started, and it's worth mentioning that in the early days as with any new Director I was making things for TV or straight to DVD… The very angle of cinema gives you a way bigger canvas to paint on…
L4LM: Can we expect a bigger tour with the release of the film? -Any chance the original four might wind up doing it again if you have a big hot here?
Alan: Oh dear, don't get me involved in that one! I am but a humble film maker sir… Anything like that would be totally up to KISS…
Källa L4LM