Intervju med Ace Frehley av Billboard: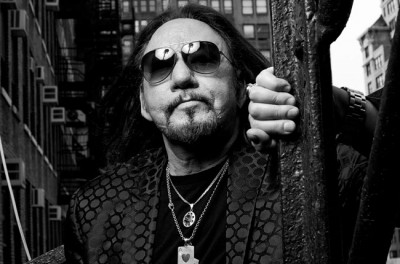 KISS' Ace Frehley 'Thrilled' By Rock Hall Induction, Readying Solo Album
"It's like we had never been apart and we're brothers in rock'n'roll," Frehley says of Kiss' Rock and Roll Hall of Fame induction experience.
With Kiss' surprisingly drama-free Rock and Roll Hall of Fame induction now in the rear-view mirror, former Kiss guitarist Ace Frehley visited Billboard for a video interview to reflect on the Rock Hall experience, reveal his least favorite Kiss album, discuss his new album "Space Invader," due in June, and more.
Rather than the drama that surrounded the lead-up to Kiss' overdue induction into the Rock and Roll Hall of Fame, Paul Stanley, Gene Simmons, Peter Criss and Ace Frehley finally entered the Hall at the April 10 gala, preceded by mega-fan Tom Morello's take-no-prisoners speech and wild fan cheers. It was a rock'n'roll moment 40 years in the making, one where the foursome reunited to praise each other for what they contributed to the band. Simmons said of Frehley, "This iconic guitar player has been imitated but never equaled by generations of guitar players around the world."
What did Frehley think of Simmons' kind words?
"I couldn't hear anything," he says. "I can't wait to go back to the hotel [after this interview] and hear the speeches because where I was standing, the PA's in front of me, there was no monitors, so I don't know what any of then said. I've been getting bits and pieces. I heard Gene said something really sweet about me."
Leading up to the induction, much was said about who should be included, who should play afterward and who did what to whom during the past four decades of Kisstory. But Frehley says that before appearing onstage, his former bandmates "were all very gracious and we got along famously. It's like we had never been apart and we're brothers in rock'n'roll. The press builds this enigma that we hate each other and all that kind of insanity but it's really not true."
Now that the evening is behind him, Frehley can more fully concentrate on the upcoming release of his new solo album, "Space Invader," which is due June 24 on eOne Music. While the final track listing hasn't been publicly confirmed yet, a post on Frehley's website from March stated the album will contain a cover of "The Joker" by The Steve Miller Band.
"There's going to be a real interesting instrumental, there's gonna be some catchy riff songs, there's gonna be some straight-ahead rockers and everything in between. The only real guests I have [are] Chris Wyse from The Cult and my drummer Matt Starr, who I used on my last U.S. tour. And pretty much I'm playing all the instruments and doing all the lead vocals. I'm a one-man show," he says with a chuckle.