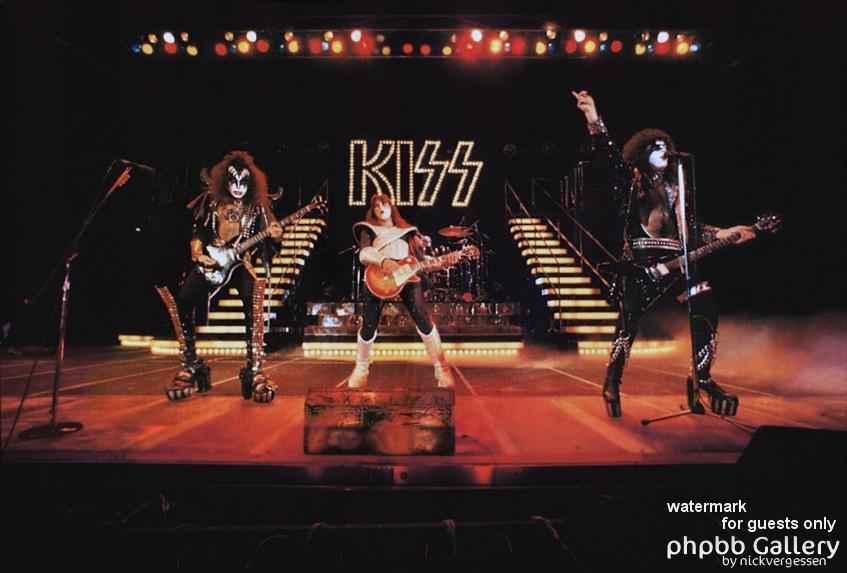 1974 – KISS performs their debut album tour in St. Louis, Missouri, at The Ambassador.
1975 – Paul Stanley develops an eye infection which prevents him from putting on his Starchild make-up. He wears mirrored sunglasses and white-face as the band plays Tower Theater in Philadelphia, Pennsylvania during the Dressed to Kill tour. Ted Nugent is also on the bill.
…
1977 – KISS begins recording their Love Gun album.
1982 – At 4:45 pm in the afternoon, Eric Carr boards TWA flight #0731 and departs from Kennedy Airport in New York City to attend a band meeting in Los Angeles, California.
1990 – KISS performs a complete dress-rehearsal in Lubbock, Texas.  Only a handful of people are allowed to witness this event. It serves as a proper warm-up for tomorrow's official kick-off of the Hot in the Shade tour. This takes place at Municipal Auditorium. Paul Stanley is interviewed by local TV news channel 11.
1997 – KISS brings the roof down in the Saddle Dome at Calgary, Alberta, Canada during their Alive-Worldwide 96/97 tour.
1998 – Eric Singer appears at the KISS Expo at the Arena in Vienna, Austria. Peter Criss marries his third wife Gigi.
2000 – KISS bids farewell to Roanoke, Virginia during The Farewell tour.
2002 – KISS appears on Dick Clark's 50th Anniversary Of American Bandstand television program. They play their classic song "Detroit Rock City" with Tommy Thayer (as the Spaceman) on guitar, and Eric Singer (as the Catman) on drums.
2008 – Ace Frehley performs at the Newport Music Hall in Columbus, Ohio.
2009 – Gene Simmons and Paul Stanley voice their animated selves on "The Fairly Oddparents: Wishology," a three-part episode airing over three nights.
2011 – Paul Stanley appears on Fox News Live to discuss his work with the non-profit House Research Institute, his own hearing loss and his efforts to prevent noise-induced hearing loss amongst teens. He also makes an appearance on ABC's The Buzz.
2012 – Paul Stanley and Gene Simmons attend the private memorial for Dick Clark.
2013 – Bruce Kulick and John Corabi play the Studentersamfunnet Folken in Stavanger, Norway.