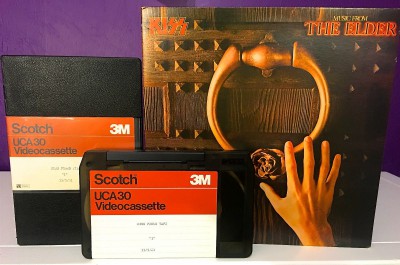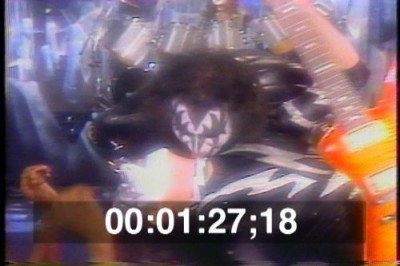 KISS-"I" UNRELEASED 1981 Music Video Tape Master 3/4"/UMATIC/AUCOIN 
ONLY KNOW COPY ON EARTH!-LOST FOR 31 YEARS!!
You are bidding on a BEYOND MEGA-RARE KISS, broadcast quality, ¾" Umatic videotape containing the LOST music video for "I." (Dated: November 5, 1981.) It's so rare this is the only known copy on plant Earth and this videotape has been heavily sought-after by the KISS ARMY for 31 years! Extensive details about the lost "I" video can be seen on the popular podcast, Three Sides Of The Coin, episode 152.
Please see our trailer on YouTube for more info and a sneak peek of the UNRELEASED "ELDER" Video.
THIS IS THE ALL PERFORMANCE VERSION OF THE MUSIC VIDEO, not the edited "I" montage version that was released the following month and has been widely circulated for years. If you think you have or have otherwise seen this music video for "I," you are sadly mistaken.
This is not Solid Gold, Fridays!, Studio 54/San Remo Festival or the comp video. THIS IS THE UNRELEASED PERFORMANCE VERSION of the music video for "I." KISS is seen performing the song on a stage that looks like Superman's Fortress of Solitude w/Ace.
Backstory: This amazing LOST "I" video was taped on Studio B @ Unitel Video in New York (the same place Sesame Street was shot.) Either the day before or after the "I" video, the promo clip for "A World Without Heroes" was also taped on the same stage with a different set.
History: Please see both Didi Zill and Waring Abbott's amazing KISS books as they use loads of still images from the lost "I" video.
It was decided in Novemrber 1981, that this video was just not "KISS enough" and it was scrapped. Looking back, one can see why that call was made but of course now the promo takes an entire new light.
Legal notice 1: The tape playbacks perfectly and is easily transferable to a DVD or Hard Drive. No copies will be made for anyone on any format. Only the winning bidder will be able to see the full-uncut music video.
Legal notice 2: Any parties making a VERO claim will be responsible for all attorneys fees and court costs, reasonable or otherwise, and agree to a $50,000.00 buyback fee for the purchase of the "I" videotape as part of the filing of a VERO claim. This auction is 100% legal and meets with all eBay standards.
EliteWorks: This auction is part of the final weeks of KISS auctions from EliteWorks before we shift our focus to Melodic Rock/Hard Rock/Heavy Metal and vintage 1970s-'80s Toys. Thanks for joining us it's been a lovely ride. We do still have the 19X RIAA KISSOLOGY Award (only two exist and it's larger than the '70s KISS Super Posters!)
Please note: The Elder LP is NOT included with this auction and is only shown for reference purposes.
Please see all of this week's EliteWorks/KISS auctions by clicking on this link: http://search.ebay.com/_W0QQsassZeliteworks